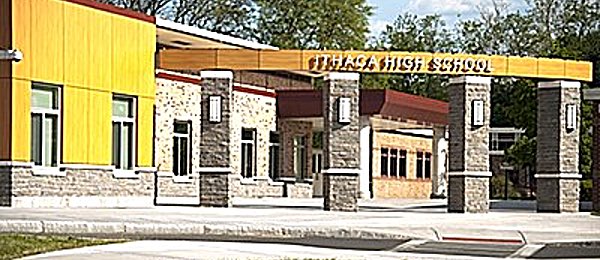 In the third week of June, when the final bell sounds, most students will pour out of school primed for a vacation of rest and ease. No more homework! No more exams! No more stressful deadlines!
But for 37 students in the
Technology Student Association
(TSA) chapters at Ithaca High School (IHS) and DeWitt Middle School, that week is when the most formidable tests of the year will be just beginning.
The groups are heading to the National TSA Conference, to be held in Orlando on June 21-25. The event is expected to include more than 7,000 students from at least 49 states and several countries. Participants will compete in over 30 events, from racing CO2-propelled dragsters to structural engineering to web design to debating technology issues and much more.
"When people think of technology, they tend to see only the engineering side – drawings and calculations and so on." says IHS TSA faculty advisor Scott Breigle. "But that's only part of it. Most TSA events are also about both technical and persuasive writing, public speaking, and articulating how technology can serve our society, now and in the future."
The national conference is the culmination of a full school year of preparation. "It's already pretty satisfying to work for months on our designs and presentations and get them really strong," says IHS senior Jacob Silcoff. "But then to go to nationals and put up our projects against the work of thousands of other kids….that's an amazing opportunity to learn and see how we measure up."
Adds IHS senior Freya Ryd, "And hopefully to win."
Perennially, the DeWitt and IHS teams do perform extremely well at the national competition, taking home numerous top-ten finishes and even two first-place finishes in the past three years.
v13i14