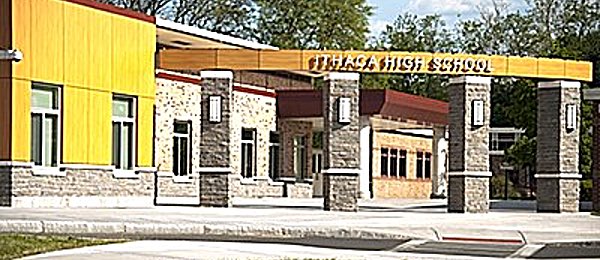 The Phyllis B. Brodhead Library Media Technology Grant allocated by the Ithaca Public Education Initiative (IPEI) this year enabled Ithaca City School District (ICSD) librarians to purchase Pixton Comics, a new technology that provides students the opportunity to communicate through comics on the web.
Pixton Comics encourage creative expression and an alternative means for students to reflect on what they have learned. It helps students to avoid the frustration of drawing, allowing them instead to focus on the creative and content aspects of an assignment.
"From fully posable characters to dynamic panels, props, and speech bubbles, every aspect of a comic can be controlled in an intuitive click-n-drag motion," the Pixton website states.
Some examples of the project-based learning activities include: imagining new scenarios for historical characters; recreating past events visually; interpreting primary sources through a comic strip; adapting a piece of literature in graphic novel form; and exploring alternative narratives and literary characters' motivations.
The Phyllis B. Brodhead Library Media Technology Grant Fund was created by Charles W. Brodhead (aka Chuck) through IPEI to provide grants in memory of his late wife Phyllis to honor her 33-year career as teacher and librarian at Boynton Middle School. She was keenly aware of the educational value of technology in school settings, and the $1,000 annual grant assists in maintaining her legacy. When Chuck died, his estate included resources to expand the fund and its purposes; the Charles W. and Phyllis B. Brodhead Fund also supports two IPEI Red and Gold Grants each year in his memory.
"Phyllis was an enthusiastic supporter of technology and was a leader among the ICSD librarians in this area," said Ann Caren, 2016 chair of the IPEI Awards Committee. "The award in her memory continues to encourage the librarians to seek out new technology materials that enhance student learning and it provides the funds for them to choose and pilot these new materials."
"Phyllis would love Pixton because she was always an enthusiastic supporter of software that enhanced student creativity through project-based learning and alternative assessments," said Armin Heurich, Ithaca High School Teacher-Librarian. "Also, it is clearly not technology for technology's sake, because creating comics is inherently idea-based. In addition, there is an obvious connection with literature. Having students interpret what they have read and explore literary characters and concepts graphically can only increase their engagement with the text."
"I really enjoyed just putting pictures and characters together to make a story," said one Ithaca High School student. "It allowed for me to better express my imagination when putting it all together in Pixton."
Other high schoolers commented: "It's a creative alternative for regular everyday English;" "(Pixton) helps to visualize a character without being able to draw;" and "It allowed me to fully display how I viewed certain scenes or characters."
v13i23