Architects and village officials joined Mayor Donald Hartill Monday in cutting a ribbon officially acknowledging the opening of a new $1.3 million municipal office building in the Village of Lansing.  The 2500 square foot building includes offices for the Mayor and Planning Board Chairman, a clerk's office, code enforcement office, and an office for the DPW, as well as a spacious meeting room and a kitchen.
"It's very nice to actually have a village office as opposed to the addition to the pump station for Bolton Point," Hartill said.  "It's going to bring a sense of community. Instead of (the old Village Office attached to) the pump station for Bolton Point we now have a real building.  The mayor has a desk and an office for the first time."
Architect Kevin Clark of QPK Design designed the building.  He was present for the dedication along with QPK Design partner Vince Nicotra, who joined Hartill, former Mayor Anne Furry, Deputy Mayor Lynn Leopold and Planning Board Chairman Mario Tomei in cutting the ribbon. 
Hartill says that state laws inflated the cost of the building, but the Village was able to pay for it with no additional taxes, bonds, or loans.
"There's no tax impact," he says.  "It was paid for in cash from our capital reserve fund.  It cost a little more than I had hoped for, but given that we're in a political world and we obey Wick's Law, that automatically adds some significant cost to the project."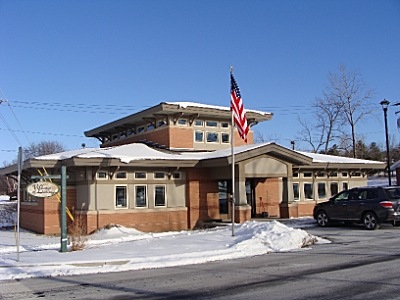 Nicotra and Clark say the biggest challenge was finding the right location for the building.  Five different placements were considered, including putting it behind the old Village Office.  But architects and village officials thought it best to put it close to Triphammer Road where people will see it.  Hartill says that along with the improvements to Triphammer Road it helps define a sense of a village.  Clark noted that village officials were great to work with, and that the building turned out as everyone expected.
"It's remarkably similar to all the original concepts," says Clark.  "A lot of times these projects take a turn for the worse - to meet budget you end up having to cut things.  But this turned out pretty much as we designed it from day one."
The old village office was tacked onto a pump station that is used by Bolton Point to deliver water around the county.  Some time ago the pumps were replaced with oversized pumps, which caused problems in the office side of the building.
"There was significantly more noise and (Clerk/Treasurer Jodi Dake) had a vibra massage when the pumps were running!" Hartill said.  "That was the incentive to build this building."
Now that the new building is largely complete, village officials plan to use the old one for storage and let residents use the old meeting room.  Before that can happen some construction and repair work needs to be done, including repairing a sewer line and possibly a new roof.
"We will build a fireproof wall so that the old meeting room can be used as a meeting room," Hartill says.  "We'll work out some arrangement where people can either sign up for it or pay a small fee to cover cleaning costs.  They'll have a place where people can come to use for meetings.  We've already had some inquiries about that."
The newbuilding has been in use for about a month and a half.  A few glitches are still being taken care of, and when the weather clears some landscaping will be done.
"Generally the construction went very well," Hartill says.  "We are going to do some preliminary landscaping outside.  We're going to replace some trees that had to be removed for the construction.  We're going to put a bunch of trees in the back parking lot on the east side to isolate the parking lot from the DPW."
v10i10