The Lock-In for the Class of 2014 went off without a hitch on the weekend of March 14th and 15th! The seniors put together this all school activity to raise funds for their senior trip, and nearly half the school came to support the event.
To start off the night there was a floor hockey tournament in the gym, and students were eager for the ball to drop. Eight teams competed in the tournament including the faculty's '1980's Dream Team'. In the cafeteria there was plenty of food, much of it graciously donated by parents and businesses, including Buffalo Wild Wings, Sal's Pizzeria, and Finger Lakes Bakery! There were also 'Minute to Win It' games going on for several hours, where students competed to complete fun tasks in under a minute. In some of the other rooms, movies were shown and video games were played.
After the floor hockey ended, students switched gears and began the volleyball tournament, a huge hit, with twelve teams participating. It was already midnight, but you could hardly tell from the energy and determination you would expect from a Lansing student about to compete with their classmates. As the tournament progressed, the pool opened, and more and more students popped onto the pool deck to cool down for the night to come. As the volleyball tournament finished, the last few teams had some time to hop in the pool as well before the last, and maybe the most anticipated event of the night.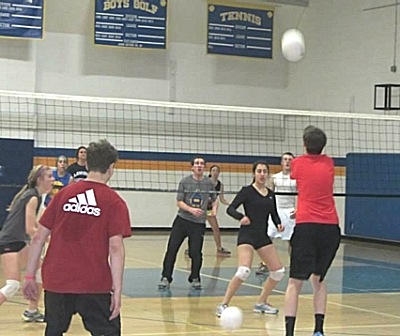 The tournament beginning at 3:00 A.M. was the raiderball tournament, a game created by Mr. Heck, and taught to the kids in the middle school. The game is a favorite among students, and it brought a lot of energy back to the school building. Finally, the last tournament finished, and students began to head home at 6:30, eager to return to their beds and hopefully sleep until late the next day. However, despite the tired kids leaving the Lock-In, everyone seemed to have had a great time.
This night of fun was made possible by many people of the community and Lansing Schools volunteering their time to put together and chaperone this all night event. The class of 2014 thanked parents for food donations, and a long list of parent, teacher, and administrator chaperones and the local businesses for their assistance in making the event successful.
v10i11