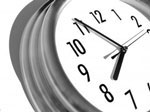 This weekend we are going to lose an hour as we 'Spring Ahead' into daylight savings time.  Don't forget to set your clocks before you go to bed on Saturday or you'll find yourself an hour late for everything on Sunday.  Officially Daylight Savings time begins at 2am Sunday (March 10), which becomes 3am.
This year Daylight Savings Time ends on November 3rd.  So mark your calendar to 'Fall Behind' at 2am that Sunday.
The idea was first hatched by Benjamin Franklin when he wrote about the idea in an essay entitled "An Economical Project" while he was the Ambassador to France in 1784.  It wasn't seriously considered until a London builder published a pamphlet in 1907.  A bill was put before Parliment in 1909, but was repeatedly defeated and ridiculed.
Eventually it was passed in Europe, and in 1918 the United States passed a formal act that established time zones and daylight savings time.  To this day not everyplace observes it, but we do in Lansing.  So don't forget to set your clocks!
v2i13
v9i9