The weather was warm and sunny Saturday, rare for a Spring that wants to wallow in Winter.  That worked perfectly for Team RWB (Red, White & Blue), which held a 'Run As One' event on Lansing Center Trail.  A combination of 25 veterans and civilian community members ran two laps around the mile and a half trail.  Army veteran and
Ithaca Team RWB
member Jase Baese organized the event.
"It's social, community service and athletic events to help veterans reintegrate with their community after returning from service overseas.," he says.  "Team RWB is a national non-profit.  Our goal is to enrich the lives of America's veterans by connecting them with their community through athletic and social events and community service."
Team RWB is one of several national veterans organizations, including the two other sponsoring organizations of Saturday's run, Team Rubicon, and The Mission Continues.  While Team RWB focusses on physical activities, Team Rubicon is a disaster relief organization and The Mission Continues focuses on community service and activities.  While there is some overlap, Baese says they work together to help integrate veterans back into their communities.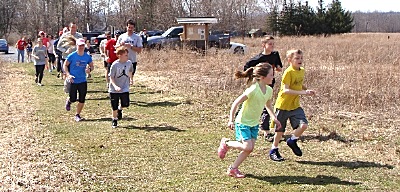 "There are a lot of veterans non-profits out there," he says.  "This event is demonstrating that we're not competing with each other for resources.  We're collaborating with each other to support veterans.  We're demonstrating that the community can come together -- this is just to show support for the veterans."
Around 25 runners came out for the run, including about a dozen veterans.  Most of the others had some kind of veteran connection.  Baese says the goal of the event was involvement, so there was no fee or fundraising attached.
"There is no fee for this or any of the events we are doing right now," he says.  "Were a volunteer run organization and we have very few costs.  We want people to buy a pair of running shoes and come out and run with us."
Baese says his group hopes to build relationships with sponsors in the future to help those who can't afford running shoes or other equipment for the events so everyone is able to participate. 
The Ithaca team was started last Fall, sponsored by Cornell University's Veteran Colleague's Network Group.  It currently has about 20 Ithaca area members.  The team sponsored some smaller events last year, but Baese says Run As One is their first larger event.  The group is planning more events throughout the year, and is also sending teams to some of the other local athletic activities, including Toughen Up at Greek Peak in September, the Chris Bordoni 5K next month, and the Lighthouse 5K at Myers Park in August.
"The thing we want to emphasize is that this is not just a veterans organization," he says.  "It's a support organization for veterans. Anybody is welcome to join.  We kind of focus on running, but if you're not a runner let us know if you are interested in something else and we'll figure something out.  We're a community organization that interacts with the veterans, so whatever people are passionate about is something we could probably get behind."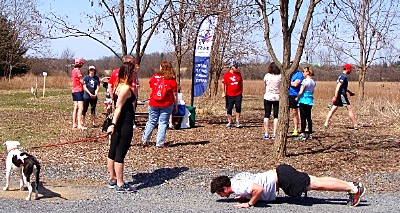 After the run the group met at Crossroads Bar & Grill.
v10i14