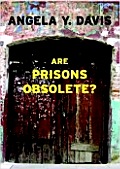 Scholar, author and self-described prison abolitionist, Dr. Angela Davis  lectured at Cornell last Friday. Her question to Tompkins County residents and students from several colleges was, 'Are prisons obsolete?'  It's the title of her new book.
A highly diverse crowd packed the Statler Hall Auditorium and welcomed Davis, who works to combat all forms of oppression in the US and abroad, with a standing ovation as she entered the stage and continued to applaud many times during her talk.  Students from Ithaca College, Syracuse University, as well as Cornell responded as she called out to current and past students, one of whom is now an associate professor.
Davis said that we do not speak about women and gender in prisons enough and discussed that she spent 18 months incarcerated in California. She pointed out that transgender individuals face significant safety and discrimination issues while incarcerated and have real difficulty fitting into a binary gender system.
She continued by describing her hunger strike to protest being kept in solitary confinement. She pointed out that the practice is considered torture in many other nations.
Davis noted that although Governor Cuomo has altered some rules by addressing the amount of time that children, pregnant women, and people with mental illness are placed in solitary confinement, it is still a practice used as a method of control.
During her introduction, Davis acknowledged local efforts on prison abolition. "I know that things are afoot on this campus," referring to the growing opposition to the Tompkins County jail expansion project.
Davis has taught at numerous colleges and universities, most recently in the History of Consciousness program at University of California, Santa Cruz. Davis's former student, Dr. Paula Ioanide, now an Associate Professor at Ithaca College's Center for the Study of Culture, Race and Ethnicity, attended the lecture. Ioanide is recognized in the community for her work on raising awareness about systemic racism, increasing police accountability, and fighting the Tompkins County jail expansion.
Ioanide has spoken before the Tompkins County Legislature numerous times, opposing the jail expansion. She argues that investing taxpayer money in expanding the jail is tantamount to investing into a system that deepens community problems and institutional racism.
Quoting The New Jim Crow, Ioanide stated that, "There are more African-American men in prisons and jails now than were enslaved in 1850."
She also noted that almost 60% of people incarcerated in Tompkins County are pre-trial and/or pre-sentencing and that we should work on reducing that number.  She suggests that Tompkins County needs, "better schools and living wages not adding more cages."
Davis took exception to the poster advertising her talk and calling her a prison reformer by stating, "Those who support reform are really supporting the profits for private industry and private for-profit corporations."  She continued to say that electronic devices and other such methods used to release nonviolent inmates are progress but still feeds a system of injustice.
While discussing the for-profit industry of the prison system, Davis talked about the increased number of arrests of undocumented immigrants. She explained, "More people have been deported under the Obama administration than in any other in history calling the President the 'Deporter and Chief' ".
"G4S is the third largest corporation in the world and the largest employer on the continent of Africa." Davis went on to explain that G4S provides international security on the West Bank and the Mexican border of the United States as well as operating many juvenile detention facilities.
Davis continued, "Corporations see immigration detention centers as the most profitable sector of the prison industrial complex."  She warned, "Immigration is an important civil rights issue and what we do here will be replicated all over the world."
Reverend Olivia Armstrong said she was troubled in spirit by the talk of rhetoric and that there was no substance in the form of solution for today's revolution of change.  She commented, "I previously heard Ms. Davis talk in 1990 or 1991 at the Greater Ithaca Activities Center (GIAC) and on some present day you tube videos. At that time her talks were purposeful and had solutions for the community."
Armstrong asked during the Q&A session, "How can the black race have a voice and representation at the United Nations, without having a flag of Nationality... in order to speak for Black Americans."
Davis replied, "That a complicated question." and referred her to Patterson's document, 'We Charge Genocide: The Crime of Government Against the Negro People' created by the Civil Rights Congress and presented to the United Nations in December 1951. It accuses the United States government of genocide according to the UN Genocide Convention. It cited many instances of lynching in the United States, as well as legal discrimination and systematic inequalities in health and quality of life and argues that the US government is both complicit with and responsible for a genocidal situation.
Armstrong expressed disappointment with Davis's lecture, saying, "It surprised me that Ms. Davis's talk was rhetoric with no substance to a solution for the revolution."
Davis asked the audience, "Are (the incarcerated) really all so uncontrollably violent and irredeemable that we must have a system that supports mass incarnation or do those lives have meaning and value? If so, is our government really doing the right thing?" She ended with, "We are all affected."
v10i16