It's not just any sale.  Shoppers flock to Lansing twice a year for the Lansing United Methodist Church (LUMC) Rummage Sale.  As well they should -- the selection of clothing, books, and just about anything else you can imagine is staggering.  But co-chair Ed LaVigne says that the shopping and making money for the church is only part of what makes the event successful.
"One way you can measure it is through money," LaVigne says.  "It is one of the things that helps with church missions and helps pay our expenses.  There are also intangible benefits, which is what spirituality is about.  It strengthens relationships, reaches out to people that may not normally seek help.  It includes people who may not have felt included in the past.  We celebrate the fact that they're there to help us, or that we're there to help them."
In recent years each rummage sale has raised between $8,000 and $10,000 for the church.  Originally the sale was a three day proposition: set up on Thursday, sell on Friday, and put everything away on Saturday.  Jeanne Jolly chaired the sale for the first twenty years.  The first mortgage on the church was paid off and a new parsonage was built.  Since that time, two or three co-chairs have been required to fill her shoes.  For the past several years Shelly Uhl-Stark and LaVigne have co-chaired the event.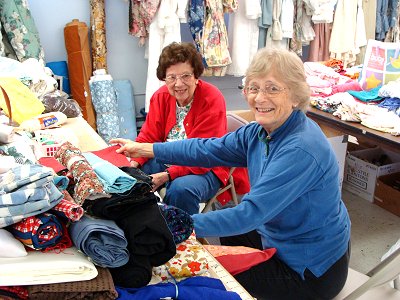 Today the event is a full week long for volunteers with two days of shopping.  It starts this Sunday when donations are accepted, and runs through the following Saturday when everything is taken down and put away.  Donations are being accepted from Sunday at 3pm through Tuesday at 6pm.  A big staple of the rummage sale is clothes and books, with every other imaginable item also included including toys, books and electronics.  Sleeper-sofas, mattresses, pillows, magazines, infant and toddler car seats, exercise equipment and encyclopedias are not accepted.
Shopping days are Friday and Saturday.   Friday whooping starts outside at 8am.  Early shoppers  get a number so they don't need to stand in line to go inside when the doors open at 9am.  The sale remains open until 8pm.
Saturday the sale runs from 8am to 1pm.  The popular 'dollar bag' sale is Saturday only  where you get paper grocery bags for a dollar each.  You can put as many clothes in it as you can fit.  LaVigne says this has proven popular with people from a variety of countries, who flock to the church on Saturday to find bargains.
"Saturday there a variety of different languages spoken," he says.  "It turns into the International House of Rummage.  The beauty of it is that a lot of people get all their clothes for the whole summer season, or they'll send it back to their families overseas."

On any given day throughout the week 50 to 100 volunteers participate in the sale, and LaVigne stresses that everyone is welcomed to help.  Volunteers certainly sell items and help customers, but they also sort through the donations, put price tags on each item, set up tents and tables, direct parking, and anything else that needs doing.
"We never put a volunteer in a position where they feel uncomfortable," LaVigne says.  "We try to pair them up with at least two or three other people in a group.  The first year I was there I collected books and separated the paperbacks from the hard covers.  It's all useful work.  It empowers the other volunteers to work more efficiently."
LaVigne says that the sale is ecumenical, and that about half the volunteers are not members of the church.  He encourages new people to work for just an hour, a few hours, or longer and notes that the volunteers are fed at what has become known as Café Rūmmâge, a group of volunteers who make home-made meals in the church kitchen.  Another benefit is that volunteers are allowed to shop before the sale opens to the public.
"Thursday night after everyone's left you walk into every room and it's like a museum," LaVigne says.  "Every room is transferred into a work of art, and every year is different, like looking at a painting.  Every year you get a different picture.  You see this transformation during the week that everyone puts in for the love of their fellow human beings.  You go to each room and see how wonderfully it's been displayed and the care that has been taken.  That, to me, really strikes on how the community spirit is working to help other people."
LaVigne says that even unsold items are put to good use.  Items that are not sold are donated to the Salvation Army, libraries, and other not-for-profit organizations.  The sale has been held since the 1960s.  Some people have volunteered to work the sale all those decades, but now their children and grandchildren participate.
This spring's rummage sale is Friday and Saturday, May 9th and 10th.  LUMC is celebrating its 50th year this year.
v10i16