The first annual
Lansing Rod and Gun Club
Sportsman's Show attracted a good crowd Saturday.  About 200 people came to check out the show despite ominous gray clouds.  But the rain didn't fall, and organizers and vendors alike were happy with the outcome.  The Sportsman's Show featured bow hunting, reloading demonstrations, vendors, contests, food and activities for adults and kids.
"This being the first test year I think it's a pretty good start," said organizer Keith Armstrong.  "We originally planned this to be kind of a small show to start.  We came up with the idea and it just blossomed.  The crowd is good.  It's a good start for the first year."
Armstrong organized the show along with his wife Theresa, Eric and Kim Jackson and Tim Sharp.  The idea was to raise money for '
The Dream Factory
', an organization that makes dreams come true for children with chronic illnesses, and for the club as well.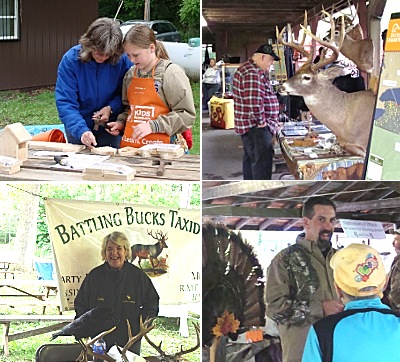 The Lansing Bowhunters set up a 3-D archery shoot.  Vendors sold hunting, fishing and camping equipment, and demonstrations on reloading were provided throughout the day.  Proceeds from a swap meet went to the Dream Factory.  Kids' activities included a fishing game, and 50 bird houses were donated by Home Depot and Lowe's so kids could build their own bird house or bird feeder.  K-9 search and rescue dogs were at one booth.  Bucket raffle prizes include dinners, gift certificates, car washes, outdoor related things, or wine from local wineries.
The Lansing Rod and Gun Club was established in the early 1950s.  The club owns about 170 acres in the valley around Ludlowville, and currently has over 150 participating members.  Activities include trap shooting, a Fall turkey shoot, and community events.  Trap shooting is open to the public Monday nights and Sunday mornings.  The club donates a two-year scholarship each year for a Lansing senior who wants to go on to a conservation or outdoors related career.  They hold several benefits, especially for local sick kids. 
They managed to attract 28 sponsors and the same number of vendors.  Most of the vendors were outdoors, hunting or fishing-related.
"That's what it's about today," Jackson says.  "To get the community here to see what we're doing.  People may drive by these stores or see the pickup truck on the road and wonder what it was.  They have a chance to come meet them and talk to them today."
Two political candidates also had booths.Congressman Tom Reed sent a representative to meet with folks, and Herbert Masser, Jr., who is challenging Assemblywoman Barbara Lifton in November's election, had a booth where he was handing out yard signs.  He also had stone-topped tables he made himself for sale to help finance the campaign.
"It gives us some exposure to meet people and to get my candidacy more well known," Masser said.  "It's a way to meet people and get the word out.  Those that like what I have to say can take some yard signs and spread the word."
Some of the booths featured organizations like Ducks Unlimited and Friends of the NRA.  Ducks Unlimited is the largest wetlands and waterfowl conservation organization. Locally they have been instrumental in driving projects near Spencer and Owasco lake, as well as a major restoration of the Montezuma wetlands.
Randy West came from Chemung County to man the Friends of the NRA table.  The organization raises funds for youth and sporting events, hunter safety courses, conservation courses.  50% of monies raised goes to the national NRA, with the rest staying in New York State to fund grants for local projects.  West handed out information on SCOPE, a political action initiative for education on shooting, and against New York's SAFE Act, and held a raffle.  The prize was a rifle, a pistol or $600 cash.
"We've been going to these events for the last six months to get our name out more," he said.  "I enjoy meeting people and talking to them, and I actually run into a lot of people I haven't seen in quite a while."
While the rolling clouds may have discouraged some from attending, Armstrong was happy with the turnout, and says the Sportsman's Show will be an annual event.
"I think Keith Armstrong and the other organizers did a beautiful job of pulling this together," said Larry Sharpsteen, who was manning the Ducks Unlimited booth.  "I hope this is something we can see repeating.  For a cold day and being the first time ever, this isn't a bad turnout.  They were certainly able to drum up a lot of vendors."
v10i23