Did you know swimming across Cayuga Lake can get you to Guatamala?  The combined youth mission of All Saints Catholic Church and Lansing United Methodist Church has been doing it for at least a dozen years.  Tomorrow at 7am they will be swimming again.  Organizers Ed Pasto and Patty Osika say they hope to raise between $1,500 and $2,000 to help send Lansing youth and adults to Guatemala next year to build safe, stone cook stoves for families in need.
"For my kids going on these mission trips is kind of a life changing experience," Pasto says.  He has gone to Guatemala each year since the mission began going tthere.  "They get to experience something that they don't see very often or ever here in Lansing.  There are a lot of things we take for granted like turning on a tap and putting our toothbrush under the water.  If you do that in Guatemala, then brush your teeth you're going to get really sick.  They spend a week without all their electronic devices.  They see how these people live and experience a bit of what it's like for struggling poor people."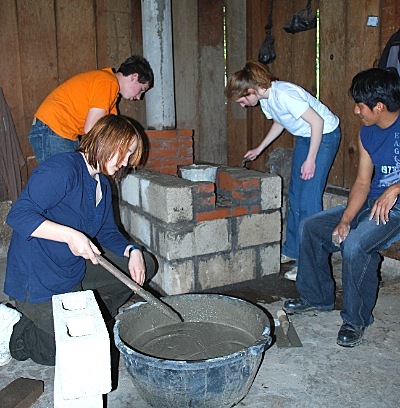 The money will pay to send two groups to San Lucas Tolimán next February and April.  Pasto says many families there cook on open fires, which are unsafe and unhealthy.  Replacing them with safer, more efficient cook stoves makes a big difference in a family's life.  Equally important, moral support provided by Lansing people is a key part of the mission.
"We show the local Mayan people that they have value," he says.  "Local people know that we took time away from our families and spent our own money to fly down there.  Why would we do that if they didn't have value?"
Tomorrow a dozen swimmers will boat across the lake from Dan and Eve Brown's dock on Lansing Station Road to Taughannock Park on the western side of the lake.  They will swim the almost two miles back to the Browns'.  Kayaks will accompany the swimmers in case of emergency.  One kayak will be assigned to no more than three swimmers, and at least one person certified in lifesaving will be among the kayakers.  Motor boats will keep other boaters away from the swimmers.  Volunteers will have a meal ready for them when they make it to the eastern lakeshore. 
Osika says the swimmers range from their mid-teens to their 50s.  Eight kayakers, three motor boats with two or three people on each, and a kitchen crew will participate in addition to the 12 swimmers.
"I look forward to the sense of accomplishment and unity that people get going through an event like this," she says.  "Teamwork and motivation and support, cheering each other on... it will be a good cohesion activity for both the adults and the kids.  All the events we have done so far have done that.  It is amazing what can be accomplished with the coordinated efforts of many people."
Everybody in the youth mission is encouraged to help raise pledges.  Many of the pledges are made to the swimmers, while others are made to the group as a whole.
"The youth have been really involved in all of the fundraising activities," Osika says.  "It will help pay their way when they go on the mission."
The mission is also sending a group to New Jersey Sunday, where local home and business owners are still recovering from damage inflicted two years ago by Hurricane Sandy. 
"They went last year and they said a big part of what they did was just bring people hope," Pasto, who will be joining the group this year, says.  "They've been feeling like they can't get their homes rebuilt or get their lives back together.  Young people come and help them.  Part of what you do is hear their stories and give them support.  Sometimes that's more important than how much work you accomplish."
The Youth Mission raises money for two years before going to Guatemala.  A chili cook-off, a Valentine's Day spagetti 'Sweetheart Dinner' and a goods and services auction are among other events that help fund the trips.
"We're very fortunate that Christians of both parishes have been very generous," Pasto says.  "They participate in our events and donate money.  We've been sending youth missions since 1992.  It's an active ongoing organization."
---
Photos by Karen Veaner
v10i28