Art lovers filled the Ithaca Farmer's Market last Friday for Community Arts Partnership (CAP) Artists Market, where local art work of every description on sale.  Artists, plus arts organizations and food vendors filled the booths for the 24th anniversary event.  Program Director Robin Schwartz says that the twice yearly event grows each year, featuring local  artists in Tompkins County.
"This is a true showcase for the arts," Schwartz says.  "The Community Arts Partnership's goal is to cultivate, nourish and grow the arts in Tompkins County.  This is our showcase event."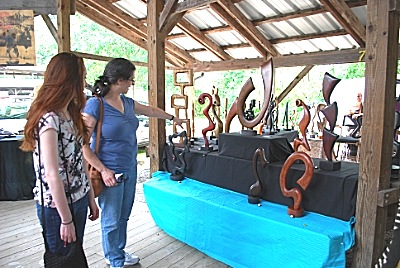 This year's event, organized by Schwartz and Executive Director John Spence featured 70 juried artists, including painters, sculptors, photographers, printmakers, ceramicists, furniture makers and musicians.  For the first time artists of all mediums were invited to participate.  Three non-visual artists took her up on the opportunity.
"In the future I want to include musicians and film makers," she says.  "Anyone who's got something to sell.  Video, music, books..."
11 of the booths booths highlighted local arts organizations that Schwartz says make the most of the opportunity to increase name recognition, grow mailing lists, and feature upcoming performances.  The rest were taken by wine and food vendors.  The East Hill Jazz Group played throughout the day.  Ongoing raffles helped raise money for CAP to help fund grants for local artists.
"This is one of many of our events," says Board Member Amanda Ryen-Yohan.  "You have probably heard of the Art Trail: artists in the area open their studios and their homes on summer weekends.  We also bring a lot of grant funding into the community, to various libraries and artists.  There are several grants that come from the state and county, as well as some privately funded grants."
Schwartz, in her 21st year of organizing the event, says the Artists' Market is easy to organize.  It grew exponentially five years ago when it split off from the Sunday Farmer's Market where it shared the space with local produce growers.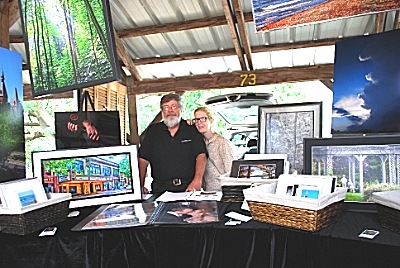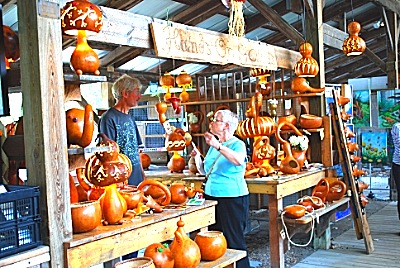 "At first that made me very nervous because there wasn't an automatic audience here, but the advantage is that I have all 88 booths," she says.  "I went from 30 booths to 88, so it became a much bigger event."But it's gone surprisingly smoothly each year.  Once the artists know their booth numbers they set up and they know what they're doing.  And the day sort of runs itself."
Well, mostly smoothly...
"There was the year I blew out all the electricity... I decided to put all the food vendors in one row," she admits.  "That wasn't a good idea."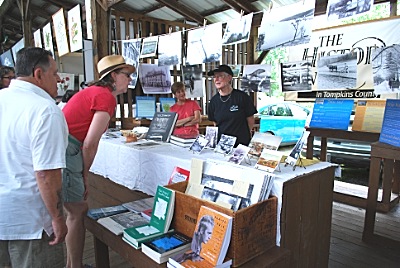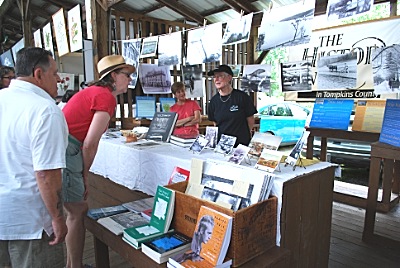 "The level and quality of the artists here is fantastic," says Board President Jamie Ferris.  "I'm thrilled we can continue to have this event every year.  Robin and John do a fantastic job, it's an amazing event and I couldn't be happier.  This is what CAP should be doing and I'm thrilled to have it happening."
---
Reporting and photographs by Karen Veaner
v10i29