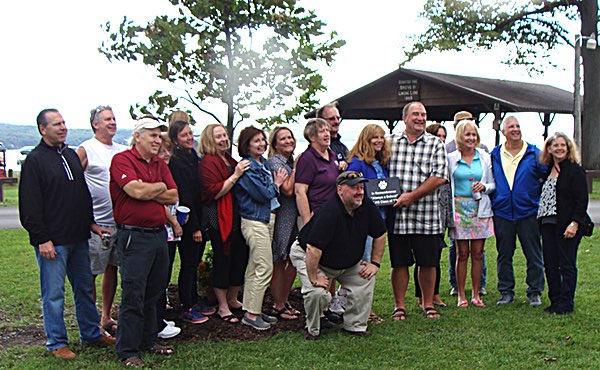 Graduates from the Lansing High School Class of '77 were in town last weekend to celebrate their 40 year reunion, and to donate an oak tree in remembrance of their classmates who have passed. The tree is near two pavilions close to Cayuga Lake. Around 50 people attended the reunion. The tree and a check for $250 to be used for Recreation Department scholarships was accepted in behalf of the Town by Supervisor Ed LaVigne.
"This is another example of why Lansing is so great -- because you give," LaVigne said. "This park was built because of people's hard work and generosity. The same with our playground, the log cabin, and our ball fields. These scholarships are for people who may not have all the advantages now, but because of this they may be able to give later because they will have all the advantages that they need."
Classmates came from around the United States to be part of Saturday's reunion. Organizer Michael Fenner traveled from his home in Fort Mill, South Carolina. Others came from as far as Texas and San Francisco, while others still live in Lansing. The reunion started at Rogue's Harbor Inn and Crossroads Bar & Grill Friday night, then reconvened at Myers Park Saturday morning. Naturally, Dave Hatfield's famous Lansing barbecued chicken was the mainstay of the menu.
"We couldn't have asked for a better place to have it in the park," he said. "We have a plaque that will be mounted in cement. And with the extra money we are giving the Lansing Parks and Recreation Department $250 for scholarships for the kids."
The class of 1977 began its high school career in what is now Lansing Middle School. The classmates were the first sophomore class in the current high school building.
Fenner welcomed his classmates, saying he remembered interactions with each one. He pointed out his first date, and classmates whose families were friends of his family, and remembered birthday parties, before making the presentation. he invited classmates to speak.
"We're just so thankful for who we grew up here," said classmate Crystal Smith Stovall. "We're a big quilt. We've all bee quilted together. Our fabrics are a little different, but we're one big quilt and that quilt has kept us together through the years and connected us."
v13i31