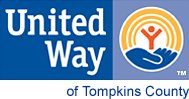 United Way of Tompkins County
's (UWTC) Board of Directors recently approved a total of $971,600 in  funding requests to support local health and human services and programs.  Community Care Fund (CCF) Awards totaled $941,488 and Spring '12 Hunger & Food Security Awards totaled $30,112.
The recommendations were presented by Elaine Quaroni and Sarah Manasse, fellow UWTC Board Members and Co-Chairs of the Community Investment Committee.  "Having faced the most challenging fundraising environment in recent years, it is rewarding to see these community contributions distributed in a manner that will produce meaningful outcomes for local residents," added James Brown, president of UWTC.
Supporting the UWTC Community Care Fund is one of the most powerful ways to make a positive difference.  UWTC tracks the results of donations to the CCF, so donors are assured of accountability and results, measured in changed lives and a healthier community. UWTC is working on funding strategic initiatives that will help individuals and families to improve their lives through education, income, and health.
Lead by a team of volunteers, the UWTC grant funding model relies on a process that includes: researching the needs of the community, applying best practices from proven programs, identifying agency partners using a competitive grant process, and tracking implementation. Funded programs are reviewed annually by our panel of Community Investment Volunteers with the expertise to maximize contributions and achieve measurable results.
For the second year, the CCF supports programs and services in seven, identified issue areas that help to address Tompkins County's most pressing needs.
v8i30