For the 22nd time Myers Point was the site of an enormous symbolic watchfire to commemorate military service people who are unaccounted for.  A large crowd assembled in the park to remember lost soldiers and as a symbol of hope that they will be found and returned to the United States.
"Watchfires have been a tool of the military for centuries," said organizer and Vietnam veteran Harvy Baker.  "When soldiers were separated during the battle of the day they were able to find their way back to their own troops because of the fires that were lit to guide them back at night.  Tonight we are lighting a symbolic fire to help our troops that are reported as missing in action to find their way home."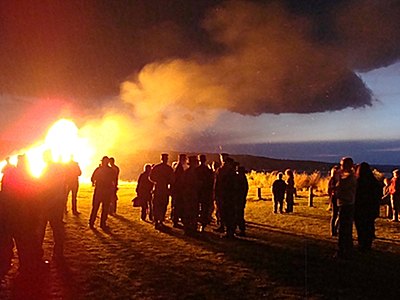 Each year a pile of wood larger than a house is piled on the point.  Past and future service men and women attend the event, forming a line to throw a piece of wood onto the fire.  This year the event raced a storm approaching from the West, but the short ceremony and the fire were held before the rain came.  Chapter 377 of the Vietnam Veterans, Sons of Union Veterans, Army, Navy, and Air Force ROTC, and the Civil Air Patrol were among the large number of participants.
Baker told the crowd that as of 2010 the US Department of Defense said that US servicemen known to be in captivity had not been returned when the Vietnam war ended.  1,660 US soldiers are still missing from the Vietnam war.  109 of those are from New York State.  Since that war another 841 are unaccounted for.
This year's featured speaker was retired Air Force Brigadier General Philip Tennant, who was a B-52 pilot deployed to southeast Asia four times as part of the 99th bomb wing, flying 200 missions over North Vietnam.  He noted that the logest period between wars for America since the beginning of the 20th century has been the 23 years between World War I and World War II.  He said more than 43 million Americans have served the United States since the Revolutionary War, and more than 600,000 of them died in combat.

"This is an occasion when we remember the cost of living in freedom in this great country," he said.  "It also forces us to admit that the price has not yet been paid in full."
Flags that have passed their useful life were burned in the fire.  Properly and respectfully incinerating retiring flags traditionally honors to the American flag.  Veterans invited local people to bring flags they wanted to retire to be part of the watchfire.
"We believe our soldiers, sailor, airmen, coast guard and marines need to know that they will not be forgotten when they go into harm's way," Baker said.
---
Photos by Karen Veaner
v8i38