The glow could be seen for miles away, up and down Cayuga Lake Friday as the Finger Lakes Chapter 377 of the Vietnam Veterans of America hosted its 23rd watchfire on POW/MIA Remembrance Day.  Cornell ROTC cadets and Chapters 704 of Auburn, Sydney Camp 41 Sons of Union Veterans were among the past, present and future service men and women to attend the symbolic event in the hopes that the missing in action will be able to find their way home.
"The watchfire has been a tool of the military for centuries," explained organizer Harvey Baker.  "When soldiers were separated during battle they were able to find their own troops because of the fires that were lit at night to guide them home.  There are 1,645 Americans that are listed as missing in action from the Viet Nam war.  When we started these events 23 years ago there were over 2,700.  Of the known missing in action from the Viet Nam war are 108 from New York State."
This year's featured speaker was Major Kevin Swab, a senior military science instructor with the Army ROTC Excelsior Battalion headquartered at Cornell University.  Swab served nearly 24 years in the regular Army and traditional and active National Guard.  He deployed on operational missions to southwest Asia and Haiti.  He earned the Meritorious Service Medal, Army Commendation Medal, Army Achievement Medal, Combat Infantry badge, Ranger tab, Airborne and Assault badges.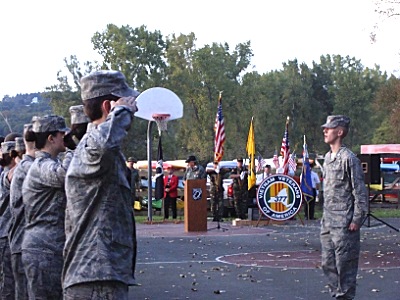 Swab told ROTC cadets not to take veterans for granted, and commended volunteers who serve the military.  He said it is important to never forget the oath to protect the United States Constitution.
"People recognize that the sacrifice is great," he said.  "There is almost no other position in the world where you put your life on the line.  We are keeping a tradition alive here.  THis is POW/MIA recognition day.  This is truly the meaning of a watchfire that we are honoring those that are still missing."
Baker noted there has been much progress in identifying missing soldiers.  Offutt Air Force Base in Nebraska opened a Joint POW/MIA Accounting Command (JPAC) facility that employs 60 people to do DNA and bone fragment searches to help identify soldiers' remains.  A 500 employee 125,000 square foot facility is based in Hawaii will help identify remains.  JPAC conducts search and rescue missions to recover remains of fallen service men and women.
"It's not just about Vietnam veterans and the Viet Nam war," Baker said.  "The accountability didn't begin until the Viet Nam war.  In World War II the amount had come down, but there were 94,000 missing in action.  In Korea 8,600 missing in action.  Ceremonies nationwide like we do here today do make a difference.  That's one of the reasons we continue to do them."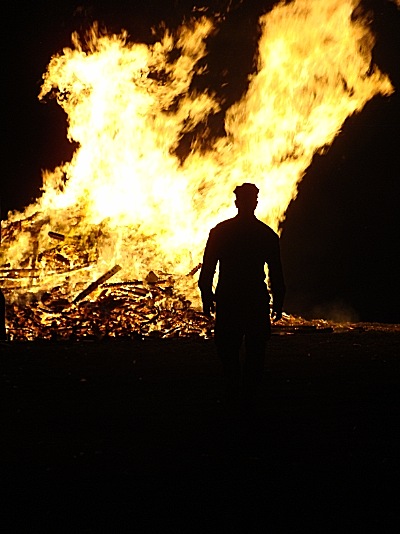 After the short ceremony attendees were invited to throw a piece of wood onto the fire.  The pile of wood was as big as a house, decorated with American flags to be respectfully retired in the flames.  The fire reached several stories into the sky, lighting up the night.
"No nation in the history of the world has ever done more or given more in the defense of world freedom than the United States and her citizens," says NYS State Senator Mike Nozzolio.  "And for that, we are grateful to all of those who were willing to serve their country and make the ultimate sacrifice.  It is fitting that we pause to reflect on the sacrifices our veterans have made to preserve our freedoms, protect our democracy and secure a safer, more peaceful world.  We owe them more than we will ever be able to repay."
"When our soldiers, sailors, airmen, Coast Guard and Marines go out into harms way fighting America's battles, you need to know that there are veterans like us that care and will want a full accounting for you," Baker told ROTC cadets.
---
Photos by Karen Veaner

v9i36