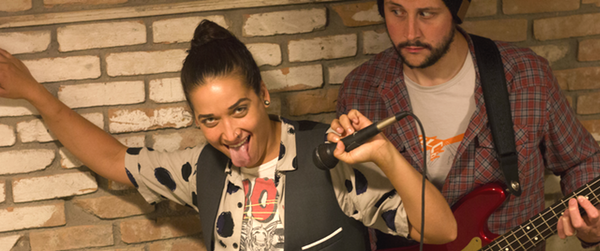 Kitchen Theatre Company continues its 2017-2018 Season with Brahman/i: A One-Hijra Stand-Up Comedy Show by Aditi Brennan Kapil, a play The Hollywood Reporter called "a layered, insightful consideration of Indian-American cultural identity, gender and colonialism that happens to take the form of a stand-up comedy routine." Kitchen Theatre Company's new Producing Artistic Director, M. Bevin O'Gara, directs. Performances of Brahman/i begin at the Kitchen Theatre Company in The Percy Browning Theatre on October 8.
Meet B, an intersex stand-up comedian from Athens, Georgia whose act explores everything from his/her/their Indian heritage to history, mythology, gender roles, and horrifying middle and high school experiences, assisted by J, electric bass playing sidekick. The play answers questions and raises more about the complexities of gender identity and why we see it the way we do, and it does it in the context of a laugh out loud funny play.
O'Gara previously directed a production of Brahman/i at Company One in Boston. "I am so excited to bring this play and this dream team to Ithaca," she says. "Playwright Aditi Brennan Kapil is a bold, innovative voice in American theatre, and Aila Peck is breathtaking as 'B'. She is an all-star collaborator who exudes warmth and truthfulness on stage and off. Adding Thom Dunn into the mix has opened up so many possibilities with the play. The two of them together are simply electric. And it only sort of makes me jealous, since I'm married to Thom."
The text of Brahman/i begs to be dropped right into a comedy club, and the Kitchen will be doing just that. The Percy Browning Theatre will be transformed into The Laughing Stock Comedy Club, complete with table service. Scenic designers Christopher and Justin Swader and lighting designer Annie Wiegand will be bringing you a full-on comedy club experience. Having Wiegand at the Kitchen marks the theatre's first foray into working with D/deaf artists. The play also features live music and original sound design by Thom Dunn, who plays the bassist J. The Production Stage Manager is Jennifer Schilansky.
v13i39