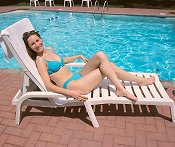 Last week a new swimming pool law went into effect in the Town of Lansing. In response to multiple cases of people building a pool, but not completing electrical inspections or fence construction, the law sets a time limit on completing the whole project. "The problem is that once the structure is in the ground and filled with water you're pretty darned sure that people are using it," says Town Attorney Guy Krogh. Under the old system they can just keep applying for permit after permit, thus avoiding having to build fences and things that help protect children in the neighborhood."
The law says that building permits for swimming pools will last three months, and can only be renewed three times. The pool must be completed within 12 months of the issuance of the first permit, which means that the pool, electrical work, fencing and any other part of the project required by a law passed in 2006 must be pass inspection to satisfy the requirements for the issuance of a Certificate of Occupancy. "If someone completely fails to do everything that's required, the Town can force them to remove the pool or fill it in, it provides for inspection and enforcement powers and sets criminal penalties for violations," Krogh says.
One of the main provisions of the law is the time limit placed on poll building permits. The new law says, "Swimming pool means any water (or body of water) contained by a vessel usually, but not exclusively, formed or constructed of steel, concrete or fiberglass that is capable of containing over 24 inches in water depth and/or which has a surface area exceeding 150 square feet." This excludes small wading pools.
Violations of the new law can result in fines from $300 to $500. The law went into effect last week when it was filed with the State Comptroller's office.
----
v3i25