25 speakers passionately argued Wednesday for and against a resolution to support the creation of a state forest on 500 acres of land in the northwest corner of the Town of Lansing.  About 90 people crowded the Lansing Town Hall Wednesday, most in support of a state forest.  Town Board members also weighed in on why they do or don't support the resolution before voting 3 to 2 in favor of supporting the project with the understanding that any outcome would include the ongoing payment of property taxes comparable to current levels.
"Passing the resolution is a starting point to the process," said Finger Lakes Land Trust Executive Director Andy Zepp.  "But with the clear indication one way or another that the Payment In Lieu Of Taxes (PILOT) is there."
The parcel in question is nearly 500 acres of land owned by New York State Electric & Gas (NYSEG).  About 200 acres are leased to a local farmer.  The rest is pristine forested land, including 3,400 feet of shoreline.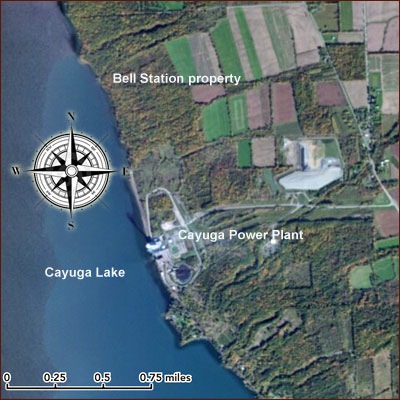 In the late 1960s and early '70s a nuclear power plant was proposed to be located on the property.  The $320 million Bell Station Nuclear Plant's 2,436,000kw reactor would have generated a net 838,000kw of power.  In 1969 the Tompkins County Board of Supervisors approved the plant, but it faced fierce opposition and the  plant was never built.  In 1973 the project was abandoned.  Today NYSEG considers the property a surplus asset.  According to Zepp the company has shown some interest in selling the land to New York State for use as a state forest or a Wildlife Management Area, though he warns they could change their mind at any time and sell the land to commercial developers.
Zepp approached the Lansing board a year ago with a resolution to support the use of the land for a state forest.  But board members declined to vote on it due to concerns about the Town's liability, the retention of property taxes currently levied on the property, and questions about the Town's responsibility for managing the property.  In March Department of Environmental Conservation (DEC) Regional Director Kenneth Lynch joined Zepp at a public information meeting in the Lansing Community Center.
Lynch said that a state forest must include a minimum of 500 acres, which would automatically trigger PILOT payments.  Due to a state formula it looked like the payment would be less than the Town currently  receives, but Lynch seemed confident that the amount could be negotiated.
"The State has two categories of land that could be applicable here: one is a State Forest and one is a State Wildlife Management Area," Zepp explained Wednesday.  "The State Forest has to be at least 500 acres.  It's possible to connect by water and be considered contiguous.  That's an open question.  It is possible that a couple of acres would have to be added somehow.  The other possible scenario is a Wildlife Management potentially with special legislation.  They typically don't pay in lieu of taxes, however in some parts of the state they do based on legislation, which in this case would presumably be sponsored by Senator Nozzolio and Assemblywoman Lifton."
Of the 25 speakers, 20 said they support the formation of a state forest, including at least three local business owners who told the board that increasing tourist attractions in the town is vital to their businesses.
"As a long-time business owner and employer of a staff of 30 I hesitate to allocate funds for further expansion or renovations or staffing without the development of other attractions or recreational opportunities for potential visitors," said Rogue's harbor Inn owner Eileen Stout.  "The lakefront Bell Station property is the perfect opportunity to address those concerns.  As a state forest that property could offer Lansing residents and tourists alike many different outdoor and recreational opportunities that are not provided by Myers Park."
Paddle N More owner Jennifer Miller said that after two years of business at her Myers Park location she recognizes the importance of more tourist attractions in the town.
"One of the attractors to paddlers specifically and the public in general is having access to protected green space and the lake," she said.  "After two seasons it has become apparent that staying viable depends on increasing the number of patrons including the number of community members that visit.  In making plans for subsequent seasons viability is everything for me.  Your vote for making Bell Station a state forest is critical."
Zepp noted that Bell Station is the only remaining lakefront property large enough to be viable as a public space.  He said that Cayuga Lake has less public land that other lakes in the region.  Most of those in favor cited a litany of tourist activities that a state forest would attract and the dollars they would bring to local businesses.  Proponents stressed that tourism dollars would equal or outweigh property tax revenue that would result from housing or business development.  Lansing Supervisor Kathy Miller said that private development might ultimately cost more in town services than it would bring in revenue.
But opponents of the plan said that the amount of tax dollars paid by the state is uncertain, and pointed out that nearby developments have generated millions in assessed value.
"A $170,000 piece of property was developed.  Within 20 years it turned into $2.2 million of assessment," said Scott Bishop, describing property to the south of the proposed fstate forest.  "That was only four lots with 1,000 feet of lakefront with railroad tracks.  The property at Milliken (Bell Station) has no railroad and it has 3,500 feet of lake frontage.  I think we need more public input and discussion.  I think a lot of people don't even know this is going on."
Bishop said that a silent majority is probably opposed to the project.  Sheila Nedrow, a resident for 34 years, went further accusing proponents of secretly organizing a large turnout to try to push the board's vote toward supporting the project.
"Taking into account the underhanded way the issue was handled for tonights meeting, a campaign of making many, many phone calls to bring out the people who are for this proposal, I now ask the Board to not vote on this tonight so the people who are against it have time to rally and come express the reasons we are against it," she said.
Recently elected County Legislator Mike Sigler also opposed the resolution, saying that the county assessor has not been kept up to date with the proposal and the Town's proposed action.
"My main concern is how this has been handled," he said.  "I think if a lot of people knew that this were going on it would probably get a lot of support. I have no objection to a state forest.  I do have a large objection to a state park.  Right now it's assessed at about $4,000 per acre.  If its a state forest you're going to get less than that, but I don't know if its worth not doing just for that cost.  Is that worth it to the Town Board?"
Board members noted that the issue has been in Lansing for an entire year, and the March meeting with Lynch was well publicized and well attended.  Later in the meeting each council person explained why they do or do not support the project (
Click here to see accompanying story
).
The resolution passed 3-2.
v9i44