Lansing's representative to the Tompkins County Legislature Mike Sigler announced Wednesday that he will solicit signatures on a petition to the new York State public Service Commission to repower the coal-fueled Cayuga Power Plant with natural gas.  The petition is an eleventh hour push to show Governor Andrew Cuomo and the New York Public Service Commission that there is plenty of local support for the repowering plan.
"A lot of what people have done so far has been great, like calling the governor's office and calling their representatives," Sigler says.  "But there is no surety about how many people have called.  I looked at the turnout from (the PSC Public Hearing held in Lansing at the end of last July) and it was huge.  It seems like if we could get together and put all those names on a petition, then we'd have some hard copy to show the commission that, hey -- these people do care about keeping this plant open."
Local officials say that closing the plant would be devastating to the Lansing community, especially to property tax payers.  But the consequences would go beyond taxpayers with jobs and local spending also at risk.
"This closure would cost the average property taxpayer in Lansing nearly $600.00 and make Lansing the highest taxed, non-city school district in Tompkins County," said New York State Senator Mike Nozzolio at a press conference last July.  "Additionally, over 40 well paying jobs would be lost at the power plant, hurting local families and the Lansing economy.  We must do everything possible to protect our local property taxpayers from this devastating tax increase and encourage the New York State Public Service Commission to allow the Plant to move forward with its plans to repower."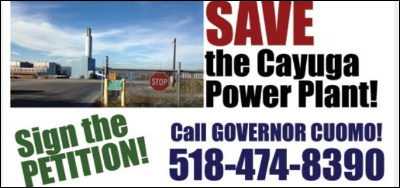 As the decision on whether to repower or close the Lansing power plant looms, officials are concerned that without a strong showing of public support the plant might be closed.  Lansing School Board member Karen McGreevey has been actively advocating to repower the plant.  Last week she reported to the Board of Education that Nozzolio told her a decision might come by the end of this month.
"I asked him what could we do," she said.  "He said that local support is an important factor in the Governor's decision.  Over the next two weeks he encourages community members in our region to write, call and email the Public Service Commission in support of repowering."
Last month Congressman Tom Reed said the same thing.
"The message getting up to Albany is that there is a split in that message where a lot of folks are saying, 'no, we don't want it to be repowered and stay in existence.'" he said three weeks ago.  "To me that's problematic."
Sigler says he intends to address that problem.
"That's really how they saved Dunkirk," he says.  "The people in the community were so behind it.  It seems like we have a good consensus. This crosses all political lines.  It crosses all income lines.  I would say if you took a poll of the town 90% of people would support that.  We need to get all those people to sign a petition.  If you were to poll the county I would say about 50% of people would support the power plant.  I think you have a vocal group (that opposes repowering)," Sigler says.  "A petition make the other group -- that may not be quite as vocal --vocal.  It gives them a voice."
Sigler ran the petition by Power Plant officials before distributing it yesterday.  The petition simply states, "The Cayuga Power Plant, having been a fixture in Lansing, NY, for decades is seeking to repower with natural gas to remain competitive in the marketplace and remain open.  We are asking the Public Service Commission to support this repowering, case number 12-E-0577.  We the undersigned are concerned citizens who urge our leaders to act now to support the repowering of the Cayuga Power Plant with natural gas."
Sigler, a Republican, said he would ask members of the Tompkins County Republican Committee at their meeting yesterday to distribute the petition throughout the county.  He also said he would ask Lansing Democrats who support repowering to distribute it.
"I do not want this to be a political thing.  It is not," he said.  "You don't have to just collect Republican signatures -- anybody can sign.  I'm going to go to the Democrats, at least the ones in Lansing.  My goal is 10,000 signatures.  That would mean a lot.  That would be ten percent of the county."
"We got a little glimpse of what happened when you don't have power," said Lansing Councilman Ed LaVigne after a power outage plunged Lansing into darkness Wednesday evening.  "How tragic would that have been if this had happend a week ago when it was 4 degrees and colder.  No power, no lights, no well pumps, no toilets, no showers, no radio.  Not to mention the people who need electricity to run their oxygen machines and everything else.  Then we're scrambling to find batteries and everything else, and praying to God their cell phones won't run dry either.  All that because we wouldn't have power.  This is why it's so critical to repower this plant to have consistant, reliable power."
Opponents of repowering say that despite Cuomo's December 15th announcement that the plant would be repowered, its fate is not secure.
"This extension signals that the Governor jumped the gun on announcing this so-called agreement and that plant operators have likely been unable to find a way to re-power this uneconomic plant without relying on unreasonable and unjust rate hikes," Earthjustice attorney Christopher Amato said. "Unfortunately, these negotiations are being carried out behind closed doors so we have no way of knowing the whole story. The Governor and the Public Service Commission are, yet again, making a mockery of the public ratemaking process."
But supporters of repowering are optimistic that both plants will be saved.
"Dunkirk is being repowered due to the outpouring of the community," Sigler says.  "I think we showed that outpouring, but apparently that needs to be restated.  Let's make this the rally point."
v10i6