In 2008 Lansing School District voters approved an Energy Performance Contract (EPC) with Johnson Controls that was expected to yield almost $9 million in savings including $3,260,000 of anticipated state aid.  School Superintendent Chris Pettograsso told the Board of Education Wednesday that careful auditing of the program has shown that the project has saved 3.8 million in energy costs over a four year period.
"It's nice to see all the efforts and our expectations come to fruition," she said.  "For the first few years it was a struggle to get people to turn off their computers and turn off their lights.  We sent an email out before break.  the auditor went around and reviewed everything, and it was amazing.  Not only are things turned off, but they are now unplugging things."
Construction began in the summer of 2009.  It included many improvements, large and small, including work on windows, building insulation, heating and cooling systems, redesign of building entrances, among other things.  In 2010 40 geothermal wells were dug on the west side of Lansing High School, to be used for heating and cooling the building.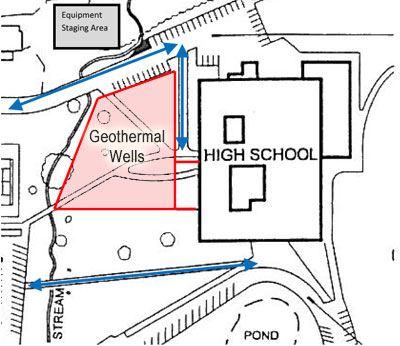 Pettograsso said that an auditor has confirmed that the money was saved.  If current savings are maintained the district will save almost $1 million per year through the life of the contract, which runs until 2029.  She said a detailed accounting of the project will be presented at the next school board meeting.
"$3.8 million is a lot of money," School Board president Glenn Swanson said.  That pays for a lot of things."
v10i15