If a zoning change is approved a new phase of construction may bring an additional 60,000 square feet of medical offices to the complex on Brentwood Drive.  Integrated Acquisition & Development Vice President of Development and Construction Services Herman Sieverding asked the Village of Lansing Board of Trustees Monday to consider rezoning a section of the property from 'Business & Technology' to 'Human & Health Services'.
"There is the potential for three lots of about three acres each," Sieverding said.  "It's theoretically possible to develop an additional 60,000 square feet of medical-related office space at this location."
Brentwood Drive is home of numerous medical buildings belonging to Cayuga Medical Center, including Convenient Care, and Cayuga Medical Associates (CMA).  Seven years ago a similar zoning change was made to make CMA's 16 Brentwood Drive building possible.  That building houses Cayuga Center for Infectious Diseases, Internal Medicine of CMA, Progressive Neurosurgery of CMA and Rheumatology Services of CMA.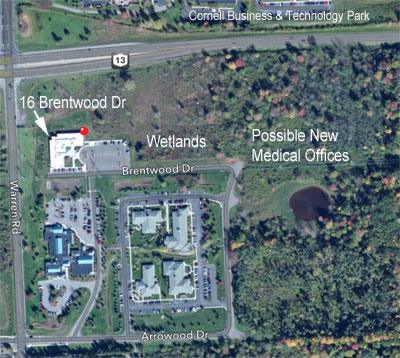 The property was originally zoned for Business & Technology as part of a large swarth of the Village that includes the Cornell Business & Technology Park that is immediately north of the property on the other side of Route 13.  Developers were looking at a portion of land immediately adjoining existing Cayuga Medical Associates at 16 Brentwood Drive, but it turned out to be an area of wetlands that falls under federal jurisdiction.  Sieverding explained that new regulations makes this property a federal jurisdictional wetland, in large part because it drains into Cayuga Lake, which is considered to be a tributary of navigable waters in the United States.
"To do anything on a federal jurisdictional wetland is a long, costly, very complicated process with the Army Corps of Engineers," he said.  "We decided it's probably just not worth doing that for this particular area of land.  We would leave it the way it is and perhaps move further to the east."
An environmental assessment was conducted for an eastern portion of the property, and a small wetland was discovered, but far enough from where the company hopes to develop the new buildings.
Trustees said they are disposed to approve the zoning change, which will now have to be referred to the Planning Board for its May 27th meeting.  The Planning Board will forward its recommendation back to the Board of Trustees for action some time in June.
v10i17