Hydrofracking was the top concern at a lively town hall meeting with U.S. Congressman Tom Reed Saturday.  The Dryden Village Hall was 'standing room only' in the Tompkins County leg of a day of meetings that also took Reed to Horseheads, Owego, and Seneca Falls.  Anti-fracking activists came armed with signs and hard questions in a town that has taken the lead in banning fracking within its borders.  The first question got right to the point: "Do you support the home rule right of Dryden to ban fracking in our town?"
"I am a firm believer in the tenth amendment, plus the municipal home rules in New York State's way of governing," Reed replied.  "I believe governments that are closest to the people govern best."
Reed noted that fossil fuels are still needed part of a short term solution, but that he supports subsidies for sustainable energy solutions like wind and solar power as part of a long term solution.  He added that 100 million acres of federal land could be used to grow biomass for fuel, again with income helping to pay for American infrastructure.
He said he does not agree with loopholes that favor some companies, including exemption for the fracking industry from the Clean Air and Drinking Water Act.  Reed said he thinks that regulating gas drilling should be a task for the New York State Department of Environmental Conservation (DEC), not the federal Environmental Protection Agency (EPA).  He added that he suports exporting natural gas if a tax can be applied to the exports that would be used to pay for American infrastructure costs.
"There should be no picking of winners and losers in Washington, D.C.," he said.
When asked if his position on downsizing government would extend to abolishing the EPA, he said no.
"I think there are some reasonable interstate issues that EPA has a role in," he said.  "I think we've made some good headway with the Clean Air and Water act.  The difference between where we were in the '60s when I was born and where we are is a tremendous improvement."
Listen to the whole town meeting (about 1 hour, 21 minutes)
with Congressman Tom Reed
(on browsers that support Flash)
One woman asked where $126,000 of gas money going to Reed's campaign came from.  He said he didn't know, and he doesn't track that information, stating that in any event it doesn't impact his political beliefs or legislative actions.
"I have looked at this issue for many years,"  he said.  "The positions I've taken are based on the things I have done, the things I have researched, and taking input from people.  There are many people here who are opposed to fracking. I can assure you that across the district there are many who have the opposite opinion.  As a member of Congress that's one of the things I wrestle with.  I represent 700,000 people.  There is no way I can agree with 700,000 people.  We do the best we can.  I promise you I will tell you what my positions are."
Reed said that he wouldn't change who he is just to get elected, and noted that he was honest about what he stands for when he won the election last November.  When asked whether he would change the way he represents the district now that the political makeup has changed, he said no.
"Representatives shouldn't change who they are," he said.  "Where is the common ground?  Where we can agree, I'm all in."
Gun control garnered the second highest number of questions after hydro-fracking, but spurred the liveliest argument in the room.  Pro-gun ownership advocates largely agreed with Reed that the focus should be on identifying and dealing with troubled individuals before they are able to kill people in schools or elsewhere, while gun control advocates said that it is impossible to identify all troubled people, but it is possible to better regulate weapons.  Some insisted that there is no good reason for anyone but military and law enforcement officers to have automatic weapons.
"I believe in the second amendment," Reed said.  I believe it's a constitutional fundamental freedom.  I am very interested in dealing with the issue of violence in our schools, violence in our communities, and violence in our society.  I would be very eager to work with anybody when it comes to mental health issues.  We're going to look at policies that empower our teachers, mental health providers, law enforcement get resources.  The mental health component of this issue should be foremost in our minds."
He acknowledged that Congress can't do much about the culture of violence that includes violent movies, rap music and so on.  But he said he had been visiting schools the previous day to try to get the issue of violence in the forefront, and to talk about halting glorification of violence.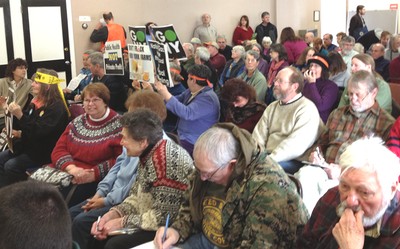 Tompkins County Democratic Party Chairwoman Irene Stein took issue with Reed's approach to preventing gun violence, saying that by focusing on mental health issues and reporting of potential killers he is ignoring other ways to reduce violence.
"I have been told legislation was passed in Congress that forbids Congress from providing money for research into the connection between mental health problems and gun violence," she said.  "Since you have chosen to select one or two avenues to pursue instead of all of them, much to my regret, at least can you do something about reversing this legislation?"
Reed was unaware of that particular legislation, but promised to follow up on it.
"If that is the law of the land I am very interested in getting it taken off the books," he said.
Reed said that immigration reform has only recently become an issue he is hearing about from constituents in his district.  He said he supports immigration reform, especially in regard to how guest worker status is regulated.  He also said he wants to reform the way student visas are handled.
Some also questioned Reed's assertion that whether or not to allow gay marriage should be individual states rather than a federal issue, saying that without a unified approach to gay spouses' rights federal and other benefits would be unfairly and unevenly enforced.
Toward the end of the session questions about Social Security were raised.  Reed said he believes it should be kept separate from the federal general fund.
Reed said that with the expanded district he would be expanding access to him and his staff.  He pledged to open an Ithaca office despite limited funding for congressional staffing.  He said he will have six offices in Ithaca, Corning, Jamestown, Owego, Geneva, and Olean.  He said he has directed his staff to find a location, and is planning an open house once it is established.
Reed held four town halls in Cattaraugus and Chautauqua counties in January.  Since he took office January 1st, 2011, Reed has hosted 79 town hall meetings.  He said he will continue to hold more 'listening sessions' throughout his second term.
v9i5