U.S. Congressman Tom Reed was at Cornell Saturday to meet with constituents and hear what they had to say.  Questions were written down beforehand, then sorted.  The four top issues Tompkins County constituents at the meeting were immigration, health care, containing student loan costs, and issues to do with natural gas.  The most questions were directed at immigration reform and a Senate bill that New York's Senator Charles Schumer introduced.  The bill, among other things, would provide a path to citizenship for 11 million undocumented immigrants.
"The reality of D.C. and the reality of split government is that we're not going to take the Senate bill and get to the finish line because there are a lot of people, myself included, who think that the legal path to citizenship is something that goes too far and is not right," Reed said.  "What is the solution to the problem?  You have 11 million folks here illegally.  There are a lot of people that are opposed to any type of amnesty, so I think that has to be recognized."
Reed said that legal immigrants resent the idea of amnesty because it undermines the process they went through to become citizens.  Reed said that they tell him, 'How is that fair to me? I came here.  I utilized the processes, I made the investments.  I did the right thing.  But the people who came here illegally are going to get the same benefit immediately that I went through all this hassle to get.'
"When you talk to people who are here illegally, one of the things I see a constant theme on is, 'I'm worried about the risk of deportation'," he said.  "Not as much about the issue of citizenship.  So when I talk to them about a proposal that I'm interested in.
"What they're telling me is 'You're open to the concept of legal status and the risk of deportation is removed, but I have to forfeit my right to become a citizen, but my kids who came here with me, but my kids can retain the right to become citizens of this country...' they're very interested in that concept.  That is one thing that I think is a path to get to the finish line to solve this problem.
Listen to the entire
town hall meeting.
(About 1 hour, 40 minutes)




On health care Reed said he does not support 'Obabamacare'.  He said he has voted more than once to repeal it.
"I think the biggest problem with the Affordable Care Act is it didn't get to the root issue: what is going to contain the health care costs in America?" Reed said.  "If the Affordable Care Act is ever repealed there are some things I'm interested in being part of a replacement.  I'm talking about things like prevention, coordinated care, reimbursement models that are not fee-for-service based, but based more on a quality of care basis so that you are rewarding the efficiency in health care."
He said that with the current fee for services model health care providers are motivated to provide more services to get more money.  He said it would be important to find a way to reward efficient health care that also has a good quality outcome.  He also said that tort reform and challenging the concept of 'defensive medicine' are keys to bringing down health care costs.
Reed said he voted to extend the subsidized student loan rate this summer.  He said education is a priority, but tough decisions are ahead because of the national debt.  He said that throwing money at programs is not the best solution, but some constituents defended specific programs like 'Head Start' and Pell grants.
Reverend Olivia Armstrong stood to tell Reed he must continue funding social programs that help people sustain themselves.  Armstrong noted that Reed had awarding funding to a program to help local farmers, administered by Joanna Green, who was also in attendance.  Green helped Armstrong by hiring her to help with farming, and helped her find an apartment. 
"You talk about Obamacare," she said.  "If you keep that program together and we get fresh vegetables... we have local farmers here who do an excellent job.  I don't hear you talking about them.  Because without food that's that healthy you might as well forget about Obamacare because we're all going to die.  Keep the door to that opportunity open."
She said Reed should help local farmers as well as the big farm conglomerates, because it was a local farmer who 'helped save her life.' 
"This program is something that we can see the results of, seeing what you did with it," Reed said.  "You pulled yourself out.  I'm not talking about saying no to food stamps.  That's not what I'm saying.  I'm saying we are having a debt crisis.  What we're talking about is how do we help people just like you through that crisis?  How do we get other people to do what you did?  I helped her and she helped you, then you helped yourself."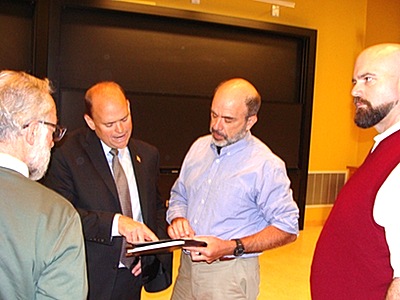 Reed was decisive in his support of repowering the Cayuga Power Plant, and in his support of hydro-fracking, which he said is mostly safe.
"I one hundred percent support the (Cayuga plant) repowering application as well as the one in Chautauqua County," Reed said at a town meeting at Cornell University Saturday.  "We put our position into the public record.  These are local jobs.  These are significant jobs.  These are also representative of the tax base of these communities that, if pulled out, would be at stake."
Reed said that alternative and renewable energy is important, but right now the only two choices on the table right now are repowering the Cayuga plant or closing it, and that fossil fuels have to be part of energy policy right now.
"I know it's a divisive issue," he said.  "I do recognize the exemption of the Finger Lakes.  But it's not for the reason that a lot of people take that position.  What I'm mainly concerned about is that we're focusing on one of the things you need in the Finger Lakes, on top of the beauty of the lake and on top of the lake itself is the tourism micro-economy that is around the lake.  How are you going to have these two uses made compatible.  I don't think that has been adequately answered, and that's why I support that exemption."
Reed says that through his work on the Ways and Means committee he has supported the production tax credit.  He said he supports hydro-fracking because he hasn't seen evidence that it pollutes the aquifer.
"When I look at this issue, study the issue, had a conversation with Lisa Jackson, the head of the EPA, talk to her offline with no cameras, I said 'explain to me how I'm wrong.  Explain to me where an aquifer has been contaminated with hydraulic fracking fluid.  I want to know where that is.'  You know what Lisa Jackson said?  'It hasn't happened, Tom.'  That was the head of the EPA."
One questioner asked how $45,000 Reed received from oil and gas interests influenced his stand.
"My positions have been and will continue to be those positions that I come to after taking input from people -- the people of the district primarily -- studying the issue, looking at various reports, and then coming to an informed position because I have to take a position on the issues," he said.  "It's irrelevant to me who givs and what they give.  What is relevant to me is what is the nature of the decision that we are making.  When I come in front of people to be held accountable, I tell you what my position is and why."
Through all the topics a strong theme was bringing down the national debt.  Reed pointed out that federal spending in the 2012 fiscal year was $3.54 trillion. 
Reed has held more than 100 town hall meetings since being elected to Congress and holds town halls throughout the 23rd district each month.
v9i31