Opinions Written by Dan Veaner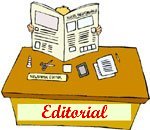 I am a bit dumbfounded about North Carolina's controversial transgender bathroom law. I thought New York's legislature was terrible, but if North Carolina's elected officials don't have anything to do but pass bathroom laws you have to wonder why they don't have anything better to do. Maybe all the serious laws have already been passed in North Carolina, so they need things like bathroom laws to make it seem like they are busy. Maybe they spend more time in public restrooms than the rest of us do.
I certainly understand concerns about privacy, but there isn't a lot of that in public bathrooms as it is. They are PUBLIC restrooms. You don't expect privacy in public. Especially in men's rooms where at least half of the legitimate business that goes on there takes place standing more or less out in the open, and not sitting in stalls.
Opinions Written by Gail VanWicklen

I do not profess to be the best driver, however, I still believe that "STOP" signs mean what they say.
Lately a great many drivers seem to think stopping is optional. They may slow a bit then drive on or step on the gas and go. Definitely wish people would think about their behavior behind the wheel and comply with the driving regulations before they cause a problem for themselves or someone else.
Gail VanWicklen
Lansing, NY
v12i19