Opinions Written by Dan Veaner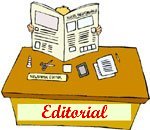 The Lansing Star has had a policy of not endorsing candidates While no publication is perfect, we try hard to keep our politics in our private lives and out of the news pages. To a large extent we even keep our private politics out of the Opinions page. In our private lives my wife and I are life-long independents (meaning not affiliated with any party,
not
members of the Independent Party). We refuse yard signs and don't wear campaign buttons around town, even though I am here to tell you we are a very opinionated couple!
Fairly covering elections is a mine field. We do like to cover sitting elected officials' doings, but rarely run stories about candidates' statements on what incumbents are doing. The reason is that sitting officials are doing things in our names, and we should know about them even if they are running for another term. But challengers' comments are not actions. We would be criticized if we put them on the News page, and chastised if we put them on the Opinions page. I choose not to run them, for which I am also criticized. Sometimes I will report on the news of a campaign, like how much money they have raised in a particular quarter. And I am criticized for that, usually by the opponent's supportersSo what do I think is fair?