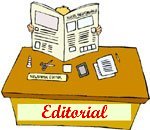 The end of summer is nearing, and everyone seems to be grabbing vacation time before the leaves and temperatures begin to fall.  Anticipating an upcoming drive south to visit family, I can't help thinking about how friendly it is down there.  I like long driving trips, and in recent years have come to appreciate taking them in the south.
Like Anglophiles who think an English accent makes a speaker sound sophisticated and intelligent, southern accents strike me as genuinely friendly and welcoming.  Evidently respondents to the
Condé Nast Traveler
Readers' Choice Survey agree: eight out of the top ten U.S. Friendliest Cities are in the South.  Of the ten Least Friendly Cities, only one is in the south.

Loved your editorial about hidden charges. The so-called Transparent Airfares Act reminds me that Newspeak is the gift that keeps on giving. Under George W. Bush, we got the Clear Skies Act, which allowed more, not less, air pollution. Now transparent airfares means opaque airfares. Once again, mission accomplished.
Jim Evans
Ithaca, NY
v10i30