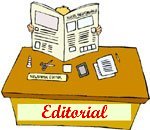 One of the key reasons that Star Trek has endured as an overwhelmingly popular franchise is that it portrays a time when humans band together to get positive results against overwhelming odds.  Captain Kirk famously passed an academy test that was meant to gauge behavior in a situation that was unwinnable by thinking outside the box and reprogramming the test.  He never accepted that insurmountable odds couldn't be overcome.
That is the same attitude that made America great.  When I was growing up the attitude was that there was nothing Americans couldn't accomplish with hard work and determination.  The country became the dominant nation in world politics with huge wins such as the fall of the Soviet Union, the moon landing, and a strong economy that seemed unstoppable.  All that has changed, and I think it is largely because our attitude has changed.
The Pew Research Center released the
results of a poll
this month that shows that 53% of Americans think the United States is less important and powerful than it was ten years ago, a 40 year low in public opinion.  Only 17% of those polled think the country has gained in influence.  2,003 adults were polled between October 30 and November 6.  70% said the U.S. is losing respect in the international community.