Opinions Written by Dan Veaner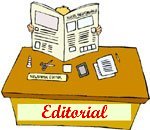 I sympathized with Autumn Ridge homeowners whose homes were flooded last August when they came to Wednesday's Town Board meeting for solutions to a neighborhood-wide program. My basement was flooded when I lived on Ridge Road and the telephone company destroyed a drain that left my just re-finished basement covered in inches of water, and then mold. It was expensive, disgusting and a health hazard. Did I mention expensive?
My current house has a long bowl-like driveway with the house and the street at high points leading to a bowl shape with a yard at the center low point. The yard has been flooded for a number of years to the point where I can no longer mow it without my lawn tractor sinking into the mud. I am told the yard can probably be repaired, but my insurance doesn't cover it, and you know how that goes.