Opinions Written by Super User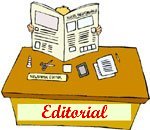 While this isn't one of my passions, it's OK having a well and a septic system. Except when they don't work. And lately I have been thinking about how much easier it was when I lived in cities. Because when the power went out I could still drink and flush. And if something went wrong it could get fixed relatively quickly and inexpensively.
With the blackouts we have recently had I couldn't do either. Because you need electricity to run the pump, and without the pump there is no water, and without water there is nothing to flush. The last week the main line from my well to the house developed a rather dramatic leak, which made the water go somewhere, but not into my house. Five days later we had water working again, but it was another few days before we got our plumbing unclogged and a filter working so that we could drink the water and not turn our sinks and tubs brown.
Opinions Written by Dooley Kiefer

Barbara Lifton—who represents us so well in the NYS Assembly as a champion of public education and environmental sustainability, healthcare for all, real campaign finance reform and progressive taxation—definitely deserves reelection. We need her!
NYS needs a governor who sees that job as one of leadership to address all residents' basic needs, not Astorino's conservative ideology nor Cuomo's personal ambitions and closed, dictatorial and vindictive style. I have listened to Howie Hawkins well-articulated vision for New Yorkers — for example, a 'green New Deal' with economic democracy, civil rights and racial justice; healthy food, protected farms, sustainable ag and food justice; net neutrality and digital democracy; higher state minimum wage including tipped workers; criminal justice reform and workers' rights; healthcare for all; real campaign finance reform and progressive taxation—and can enthusiastically vote for him (rather than facing the usual 'lesser of two evils' choices).