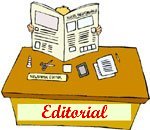 They say that ancient Egypt was a lot like modern times because they worshipped cats and wrote on walls.  That certainly applies to people I know on Facebook.  And now it applies to a Web site called 'I know Where Your Cat Is.'  As if the careless invasion of our own privacy wasn't enough, now our cats have to worry about their own privacy.
The site culls public information from a plethora of social Web sites, searching for the word 'cat' and then grabbing location information in order to place a million pictures of cats on an interactive Google map.

After reading Mr. Frenches concerns about the towns readiness in case of emergencies and then the next argument about land use, I wish the town would take care of what we have and forget pushing for such folly as a town center and more high priced developments. I've lived here for 75 years and think weve done quite well as we are.
Carl Zifchock
Lansing, NY
v10i28

In the July 18, Lansing Star, the Robertson campaign makes certain claim about campaign financing. Unfortunately, they leave out a lot of facts. An analysis of where Robertson's money comes from shows that a large percentage of it comes from Ithaca and Tompkins County donors with a good dollop from NY City. And, many of the same donors gave more than once, meaning they are probably tapped out.