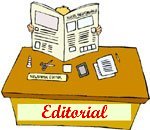 As many of our readers know, the Lansing Star Web site was down a few times last week for various amounts of time.  Over the past couple of weeks we have been working on moving our sites to our own server, and, needless to say, we encountered some challenges.  But I have to give credit where it is due: we have received outstanding support from our new hosting company,
Hostoople
.  And because of that I am confident that we are close to the smooth sailing I hoped for when we decided to move our sites.
Most Web sites are fine on what they call 'shared hosting', an economical plan in which several customers share a Web server (it is just a computer that is configured to deliver Web sites on the Internet).  My stuff on shared hosting is segregated from your stuff -- I can't see yours and you can't see mine.  But because we share a computer, if my site uses a lot of the machine's resources, it slows down your site.  It's bad manners, kind of like the neighbor with the barking dog who won't do anything to quiet it.

Readers of the Lansing Star will recall my letter recently about the possible jail time that two men faced who anchored their small lobsterboat so as to prevent the unloading of 40,000 tons of coal.
In dropping the criminal charges against these men on Monday the District Attorney for Bristol County declared: ""[the decision] was … made with our concern for their children, the children of Bristol County and beyond in mind. Climate change is one of the gravest crises our planet has ever faced. In my humble opinion, the political leadership on this issue has been gravely lacking."

Millennials are sick of party politics; we want action. My peers and I joke how Congress is, quite literally, the antithesis of progress, but we regret that our legislators' actions uphold this definition.
This almost always boils down to partisan gridlock stifling bills from left to right. Ideological warfare has turned Congress into a rhetorical battleground that produces nothing but hot air. To paraphrase our sixteenth President, while we work, they pontificate.