The Lansing Bobcats 10U baseball team has completed a successful first half of the summer baseball season. The team has utilized a balanced attack of pitching, fielding and hitting to start the season with an 11-3 record.  During this stretch of games, the Lansing team has wins against multiple Ithaca teams, Dryden, and Trumansburg.
The Lansing team has a powerful offensive squad who has amassed 191 runs through the first 14 games. This run total has been limited by a number of maximum runs per inning restrictions used in league play.  The team connected on 40 extra base hits which includes five homeruns and 13 triples. All the players have contributed offensively with their hitting, plate discipline, and baserunning.
Pitching and defense has also been a major piece of the team's success throughout the first half of the season.  Currently, all 15 of the active players on the team have pitched at some point during the season. This pitching depth is unmatched by any other team in the league and has enabled the Lansing team to easily manage through multiple doubleheaders.  Supporting the team's pitching is a talented defense. The players have consistently made the standard plays, as well as several highlight reel plays throughout the season. The team has also turned multiple double plays and has given up 131 totals runs this season. This is an impressive 60 runs fewer than the bobcats have scored through the same number of games.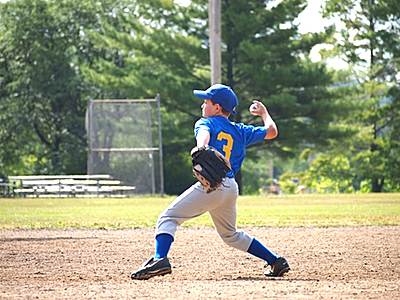 This Lansing team is much more than their winning record. "Looking past the wins and losses is how well these young baseball players have represented their community, supported their teammates and respected their opponents", said Coach Jason Ouellette.
"We, as coaches, have been fortunate to have such an outstanding group of young athletes whose talent and high effort is matched by their sportsmanship".
The members of the Lansing Bobcats 10U baseball team are Teddy Brenner, Mason Boothe, Mason Butler, Kobee Corwin-Watts, Carson Crandall, Gavin Dowell, Bradley Lehr, Liam McGreevey, Sean O, Jacob Ouellette, Kevin Patt, Gillean Richardson, Tyler Todd, Ben Vincent, Charlie Watts, and Connor Watts. The team is coached by Casey Crandall, Glen Dowell, Jason Ouellette, Eric Vincent, and Gary Watts.
v8i29