In front of a packed house at Lansing high school, the Lansing girls volleyball team picked up its 7th consecutive win, sweeping arch rival Trumansburg in 3 games in an emotionally charged night for all on Thursday , September 27th.
"Oh my god, I think I just had a heart attack before the game started", said Lansing head coach Brenda Powers. "The girls have veen waiting three years for this win... and we beat them in 3 games!"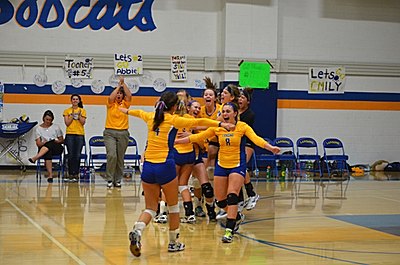 The home team set the tone early in game 1, jumping out to a 5-1 lead on the strenth of senior Kelsey Thomas who had several key service points. Seniors Jada Gooch and Hannah Armstrong combined for 2 aces and a kill to push the margin to 9-1.  A mild T-burg rally cut the margin to 11-7, before a Gooch ace, and two straight service points made it 15-7.
The visitors again reduced the deficit to 15-12, before the Lady Cats went on a 7-0 tear, with outstanding play from senior Shalyn Watson who had two aces and a service point with help from Hannah Armstrong's 'kill and spike to make it 23-12. A keara Lowenhar service point and Armstrong block gave the Cats a 25-14 triumph, as Lansing tallied 10 of the final 12 points.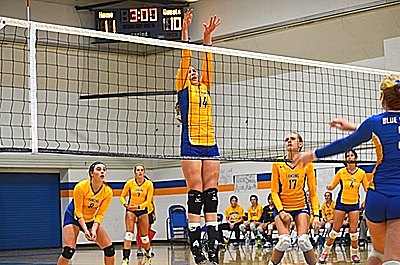 Game two was a fierce, spirited battle. The Clubs were tied 9 times throughout along with 9 lead changes.  Down 10-7, Lansing got a Hannah Armstrong push shot, a Keara Lowenhar service point and Armstrong long return to tie the game at 10. Next came a Lowenhar ace, followed by a Armstrong rocket return to make it 12-10.  Still the home team could not pull away with T-burg pulling to within a point at 17-16.
Senior leadership proved to be the difference for the Cats, as another long Armstrong return which just stayed in the corner along with back to back kills by Thomas and Watson made it 22-19. The Blue Raiders tied the score at 23, then took the lead at 24-23. With the pressure mounting, Lansing kept its poise to tie the score at 24, and again at 25 on a Armstrong push shot. Next came freshman Katherine Babuka in only her second varsity game who spiked the ball to make it 26-25, before Watson's hard kill gave the Cats a thrilling 27-25 come from behind victory.
The third game was equally as tense, with three early ties and lead changes. Tied at 12, T-burg then scored 5 straight to take a 16-12 advantage, and upped the margin to 6 at 21-15.  With a roaring crowd behind them the Cats stormed back. A 4-0 run spear headed by Jada Gooch cut the T-burg lead to 21-19, A Hannah Armstrong return tied the score at 22. The teams were again tied at 23.  The Raiders recaptured the advantage at 24-23, From there it was a determined Lady Cat effort scoring the final 3 points including a Keara Lowenhar service point in a thrilling come from behind 26-24 victory. Thus Lansing evened the score with the Raiders, who took the first meeting in 4 sets.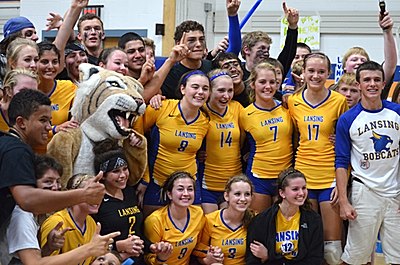 Individually Hannah Armstrong continued her all around excellence with 12 kills, 2 blocks and 3 aces. Kelsey Thomas added 4 aces, 13 digs a block and 3 kills, Jada Gooch chipped in with 5 kills and 16 digs while Shalyn Watson contributed 8 assists, 4 aces and 2 kills. In total it was a complete team victory.
The streaking Lady Cats are 7-1 on the  year.
---
Photos by Mark Armstrong
v8i31