Two individual athletes and two teams were inducted into the Lansing Athletics Hall of Fame at a banquet at the Lakewatch Inn December 22.  Nancy Wells (1993), Jamie Wright (2001), the 2001 Women's Basketball Team, and the 1989-1990 Girl's Swimming & Diving Team joined the ranks of the 59 individuals and 19 teams previously honored.
The 14th annual induction ceremony was MCed by Geoff Wright, popularly known as the 'voice of Lansing sports'.  Wright introduced the inductees, verbally painting their Lansing High School careers as if he were announcing them in real time.  Wells and Wright were presented with plaques, while team members received certificates.  Plaques depicting all four recipients are being permanently mounted in the Hall Of Fame behind the Lansing High School gymnasium.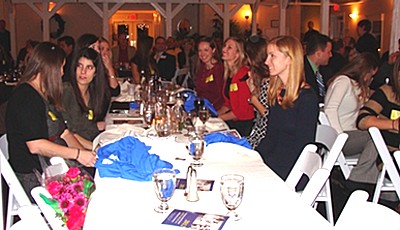 This year marks a new venue for the induction ceremony, which  in recent years.  In its first three years the ceremony was held in the high school cafeteria.  The next year the ceremony was held at half time in a football game, but high winds and rain discouraged organizers from holding it outside again.  After that the ceremony was sandwiched between varsity and junior varsity basketball games.
The Lansing Athletic Hall Of Fame was founded in 1998 to honor outstanding local athletes and people and teams who have excelled in Lansing High School sports.  Honorees may be individual athletes, teams, coaches, administrators, or contributors.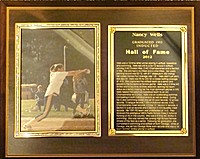 Nancy Wells
Graduated - 1993
Inducted 2012
Wells was a 10-time letter winner starring in softball, basketball and swimming. Wells led LHS to a 54-12 record in softball, winning 3 IAC Division titles, 2 IAC Championships and a Section IV title. She pitched 6 no-hitters and 6 one-hitters.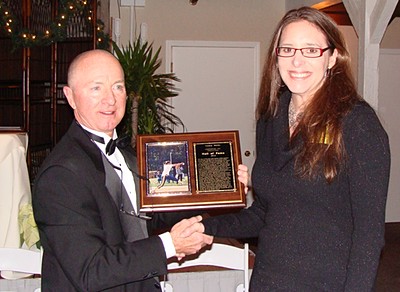 Her varsity pitching record was 52-12, with 511 strikeouts in 432 innings. Her career Earned Run Average was 1.81.  Wells didn't just pitch, she also hit. Wells was 95 for 232 for a career batting average of .410. She captained the softball team as a senior and played in the Exceptional Seniors game. Wells was a 3 time IAC All-Star and a two-time All-State selection, earning first team status as a senior, making her the most dominant pitcher in NYS.

Wells helped the LadyCats basketball team to an IAC Championship as a junior. Wells was an outstanding swimmer, competing in both individual events as well as relays. During her 5 year swimming career she set 22 pool records, 12 school records, 12 league records, 1 EFA Invitational record, 4 IAC Championship meet records, 4 Class "C" Section IV records, 4 Section IV over-all records and 2 Section IV NYS Qualifier meet records. Her 1991-92 team was undefeated at 14-0. They received the prestigious NISCA Public School Class 5 National Ranking of #6 in the country.

She was a 5 time IAC All-Star in swimming. She was named the Lansing High School Female Athlete of the Year as a senior. Following her graduation, she competed in swimming and softball at SUNY Oswego. While at Oswego, she set two Oswego State swim records and was a 1st Team SUNYAC All-Star pitcher in softball.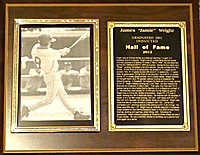 James "Jamie" Wright
Graduated - 2001
Inducted 2012
Wright was an 8 time letter winner as a Bobcat, earning 1 in golf, 3 in baseball and 4 in soccer.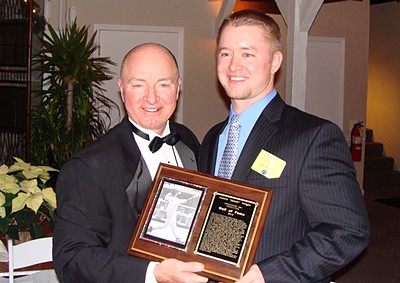 Wright was an outstanding soccer player who led Lansing to a Section IV Class C Title in 1998. He was selected as the IAC Offensive MVP in 1999 as a junior. During his four years as a "Striker", Lansing compiled a 54-22-6 record. He was a three time IAC All-Star. At the time of his graduation he ranked #1 in career points scored (150), #1 in goals scored (59) and #1 in assists (32). 11 Years after his graduation, at the time of his induction, he Is still #1 in career points, #1 in career goals scored, #4 in career assists.
Wright lettered on the golf team as a 7th grader, before moving to baseball the following spring.

In baseball, he helped the Bobcats to a 3 year record of 64-14. Wright helped Lansing win 2 IAC Titles. He also helped the Bobcats win a Section IV title in 2001. That year, the Cats went 27-2, before losing to Utica Notre Dame (Section III) in a Regional contest, 3-0.  The Bobcats were ranked #1 in NYS prior to the Regional game.  Wright was a 3 time IAC All-Star at shortstop. Wright hit .419 over three years, ranking him 8th in Bobcats baseball history. He finished with 30 doubles, 9 triples, 6 HR's, 64 RBI's, while scoring 124 runs. His 9 triples rank him #1, tied with Tom Neubert, for most career triples by a Bobcat. Wright also holds the title for most at-bats in a season with 103. Jamie also compiled a 5-1 pitching record while striking out 81 in 56 innings. His three year ERA was 1.74. Wright was an All-State selection in baseball.

Wright played for the Central Baseball Team in the 2000 Empire State Games, starting all 5 games, while hitting .320.

Following his graduation, Wright played baseball at Oneonta State where he was a 4 year starter. He was a SUNYAC All-Star at shortstop as a sophomore and again as a senior.

Lansing Girl's Swimming & Diving Team 1989-1990
Inducted 2012

The LadyCats Swim Team finished their season 10-0 in the IAC and 11-1 over-all. The only loss was to Class A Horseheads, the #7 ranked team in NYS. The LadyCats were the IAC Dual Meet Champions and the IAC League Champions.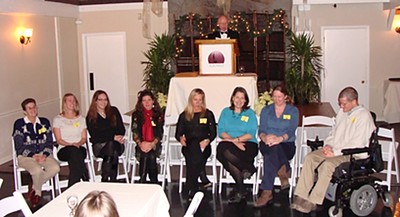 They were Section IV Class "C" Champions for the third consecutive year and were ranked # 11 in NYS, which included all Classes; A, B, C and D. The LadyCats were ranked by the National Interscholastic Swimming Coaches Association as the #11 team in the country for schools with enrollment below 900 students. Lansing was the only Section IV team to be ranked in the "Top 25" in the nation by NISCA.

Seven swimmers qualified for the NYS Championship Meet. Sarah Newman won the 100 Back Stroke, making her the first swimmer from the IAC to win an individual State Title. Newman also finished second in the 50 Free. She was named an All-American in both events. The 200 Medley Relay of Newman, Danielle Smith, Laura Herrick and Nancy Wells finished 3rd at the State Championship Meet. Becky Benson was named an Academic All-American, with a GPA of 4.06. In 1989-1990, the LadyCats set 25 School records, 36 Pool records, 21 League records, 3 EFA Meet records, 4 I A C Championship records, 9 Class "C" Section IV records, 1 Section IV over-all record and 3 Section IV State Qualifier Meet records. They set 333 "Personal Best" times and swam over 125 miles during the season.

The team was coached by Diane Hicks-Hughes.

2001 Women's Basketball Team
2001 N Y S Class "C" Champions
27-1
Inducted 2012

The LadyCats opened the season winning the STOP DWI Tournament, beating Athens, PA and Abington Heights, PA. at the Binghamton Arena. The LadyCats then won their next 16 straight before beating Odessa-Montour in IAC semi-finals and TAE in IAC Finals, in front of the largest crowd to see a Women's IAC Championship game. The game was played at Ithaca College. The LadyCats then defeated Elmira- Notre Dame, Bainbridge Guilford and Oxford, in Section IV play, before beating Groton in the Section IV Title game 49-46.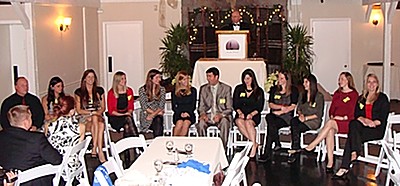 The LadyCats then defeated Section III Champion Utica-Notre Dame, 59-37 sending Lansing to the NYS Final Four at Hudson Valley Community College. The LadyCats defeated Voorheesville, Section II Champion, 50-33. Lansing then defeated Two-Time defending NY S Champion Bloomfield from Section V, 48-45, to be crowned New York State High School Basketball Champions. Bloomfield was 25-0 entering the State Championship game. The LadyCats only loss was to the NYS Federation Champions, St. John Villa, (Staten Island) 46-43, for the over-all NYS Championship.

This Lansing team was known for its gritty play, and their love to run, play pressure basketball and to play a tough man-to-man defense. The LadyCats won the Team Scholar Athlete Award with a Team GPA of over 95.0. The captains were Lindsey Dean and Jackie Murphy. The Head Coach was Stuart Dean and the assistant coach was Adam Heck.

v9i1