"What do you make here that's better than anywhere else?" I ask Sara, my server. I don't know if she had ever been asked exactly that question before but she had answers at the ready!
"The Philly Cheese steak is the best anywhere and the "Grilled Cheese Gone Wild" is great, but our "Fargo Burger" is the best!" Nothing like showing a little pride in your work!
So I happily ordered the Fargo Burger and a side of Onion Rings. Sara with her ever present smile was busily taking care of other tables while I lazily listened to the murmur of conversations at other tables. It's a bit dark in here, with plaid walls. I don't believe I've ever seen plaid walls before. There is an outside seating area, pool table and even a horseshoe pit. This is casual at its best.
Peaceful but upbeat. Aurora is home of Wells College and I can see why many of my Wells acquaintances told me I needed to "Do the Fargo". On the wall lives a poster of a day long gone by heralding an upcoming 4'th of July celebration following a baseball game, a few well-chosen words from a local politician (some things never change) and a magnificent display of fireworks at the lake's edge.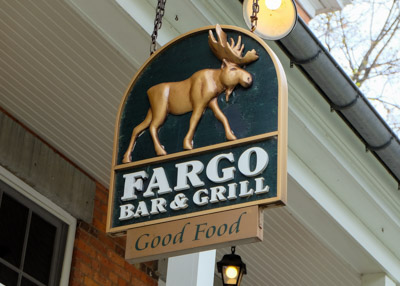 In far less time than expected, Sara was back with my fare, juicy, colorful, well presented and smelling of heaven. The sourdough rolls are fresh baked, and the lettuce and tomato were obviously whole moments before their delivery. The perfectly spiced meat prepared exactly as requested - Yes, the Fargo Burger was everything I was told, but the onion rings deserve a nod as well. These were no fast food rings – rather, generous rings of fresh, large onion, deep fried to just exactly the right crunch, encouraging the taste of the onion to shine through on its own.
The Fargo can be found right on Route 90 in the middle of the village of Aurora on the uphill side of the street. Look for the sign with the moose, climb the stairs and prepare for very tasty American fare that's easy on the wallet as well. My total for an excellent lunch and sterling service (including tip) came to less than $20.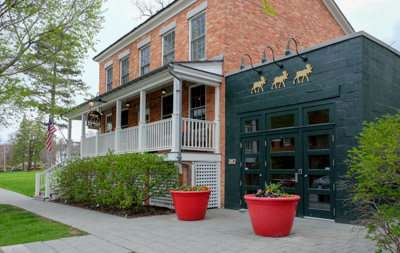 Open year round, the Fargo is an excellent value for those wanting a night out – or just passing through. You are all welcome here.
Good Food, Great Friends, Great times is their tag line.
It fits.
384 Main St, Aurora, NY 315-364-8006
---
'Within Reach' highlights the food, wine and fun of places 'within Reach' of Lansing NY. Of course, your reach extends exactly as far as you want it to. I am
Monroe Payne, Uncle Monte
to some. Come with me as I visit, taste and play in our own back yard, the beautiful Finger Lakes of Central New York.
v12i20