By

Dan Veaner

Around Town

Print

When the Shops at Ithaca Mall proposed adding a BJ's Wholesale Club a half dozen years ago, part of the deal was that they would also build senior housing to the north on a plot at the corner of Triphammer and Oakcrest Roads. BJ's opened early in 2012, but the senior housing part of the project is still just a plot of land. Not for want of trying -- part of the plot is wetlands that require a permit from the U.S. Army Corps of Engineers (USACE). Triax Management Group, L.L.C. Principal Partner Eric Goetzmann explained the holdup to Village of Lansing Trustees earlier this month and requested a minor change to the PDA (Planned
Development
Area
) that redefines the area allowed for residential development according to boundaries the USACE set.
"In 2014 when we were finally 100% done with the first project, over the years you've seen flags go up on the property, flags come down on the property," Goetzmann said. "You've seen wetlands definitions have changed, plans have changed, rules have changed, people have changed. I have a permit now to move forward with the project."
The project was to include a retail building, 12 senior housing units, wetlands and a bird sanctuary. Phase one was to build an 82,000 square foot retail building that turned out to be for BJ's. The idea wasd that seniors would live where they could walk to shopping, or at least have a short drive. The housing would also act as a buffer between the high density retail area and the Village north of the mall. Phase two was the senior housing, wetlands and bird sanctuary. The wetlands turned out to be an expensive and time consuming piece that prevented phase two until now.
Goetzmann said that the wetlands on the property are not conventional wetlands. In fact, he said, they were inadvertently created 1976 when the mall was built. A culvert was built too high and it overflowed, causing water to back up. As the land became more full of water the Army Corps of Engineers declared it was designated wetlands. That mistake came back to bite the senior housing project in a big way. In addition a rare salt inland marsh was found. Trustee Gerry Monaghan asked how much of the development area has been added with the USACE permit.
"That's a loaded question because it's not how much we gained, but how much we originally lost," Goetzmann replied. "We lost more than we got back. Wetlands are not only the plants you see, but it's the type of soil and everything else. So those rules changed. It would have been easy to just go out and build what I had. I would have saved a lot of money and we would have had these things built. We have a great location here, so I wanted to do something a little nicer, a little different."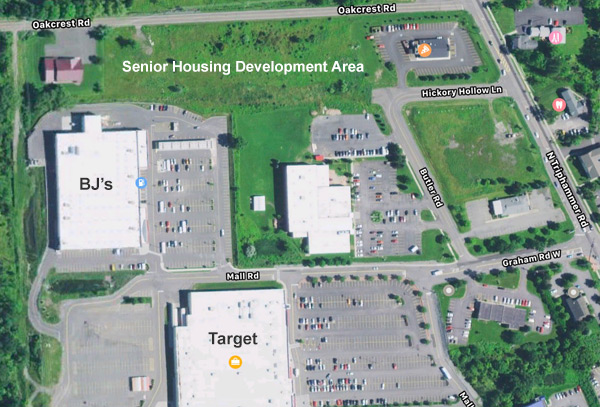 He says the USACE has spent 15 years considering the wetlands there, but he finally has an agreement that will allow the project to go forward. His request to the Trustees was to accept new boundaries that will restore some, but not all of the area to the residential building area that was lost when he originally asked the USACE for permission to build there. At that time he had told Village officials that there would only be room for nine units on the redefined property. Part of the agreement includes relocating a portion of the wetlands.
Goetzmann would not say how many apartments will finally be constructed, saying only that he was asking Village officials to match the boundaries allowed for building to those defined by the USACE permit.
Making the change requires two steps. First the Trustees had to determine whether accepting the new boundaries constitutes a major or minor change to the PDA.
"I've walked around through there and there is evidence of old stone foundations," Monaghan said. "It's obviously a parcel that's had many, many uses. It's only recently become a wetlands. I would say minor."
The board voted unanimously that it is a minor change. The second step was to send the request to the Village Planning Board, which, in turn, will recommend to the Trustees whether or not to accept the change.
Goetzmann said that if the change is approved planning will be completed this winter, and he anticipates construction will begin this spring.
"It's been a long time," he said. "It's hard to come forward here doing development. I don't control a lot of things. But I think the overall picture was could we do something a little better, and if we could, let's do it right."
v12i39