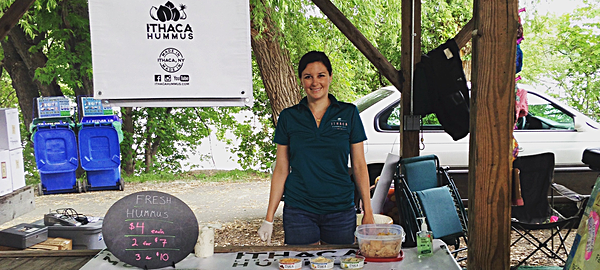 Ithaca Farmers Market announced today that Ithaca Hummus has pledged to match all donations made by the public to their fundraiser from Thursday to Sunday this week, July 9-12. Owner Chris Kirby reached out to IFM after seeing their fundraiser go live 2.5 weeks ago and said he hopes to help them surpass their initial goal of $20,000.
In 2013 Kirby and his wife started their small hummus business in Ithaca, and sold at the weekend market. Now the company is the fastest growing brand of hummus in America and their products can be found in grocery stores such as Whole Foods, Target, Stop & Shop, Safeway and more. Kirby said he wants to give back to the community where it all began and hopes that the people of Ithaca jump on this chance to double their money in supporting the market.
"I want more small businesses to be able to come through the market and chase success like I have," said Kirby. "What's good for the market is good for the local Ithaca economy, we need to keep the market around."
The market has remained open during the pandemic, but at a reduced capacity. Sunday and Wednesday markets opened a month late, and both Saturday and Sunday market vendors were limited to 50% normal capacity for quite some time. Although the market has taken steps to go "back to normal," the affects of COVID will be felt for months, or even years, to come.
"We've lost a huge chunk of our income, said Executive Director Becca Rimmel. "We can cut back some on spending, but we need help to make up the difference. We lost close to $60,000 in event rental income alone because weddings at market have been postponed to 2021. That money usually goes toward paying our bills to keep the lights on."
In conjunction with the Tompkins County Health Department, IFM has worked hard to keep the market as a safe grocery outlet - and not the social gathering spot it's known to be. Limited markets mean a lot less money for each business, and limited vendors mean a lot less money for the organization. Kirby hopes to alleviate some of the financial concerns, and says that without the market, he wouldn't be where he is today.
"I really attribute a lot of my success to the interactions I had with customers in the early days, said Kirby. "Talking to people at the market and finding out what people liked and wanted was so valuable. I really didn't have much money to start a business back then. Vending at the market was a great way to get started because the start up costs are so low, unlike opening a brick and mortar shop."
v16i28