David Hall was a book dealer for years.  He did most of his buying at auctions.  He  paid less than $50 for books that turned out to be worth over $10,000 -- three times.  Two of those $10,000 books were simply buried in boxes of books that he had bought -- one of those came as a result of an absentee bid he made at an auction he couldn't physically attend.
"I didn't open the box for two or three months because I didn't think it was anything important," he recalls.  "I opened it and here was a valuable book.  That showed me there was a need for people selling books to have some advocacy.  They needed somebody to promote that material better."
Hall says there are six or eight high-end galleries around the country that offer that expertise such as Sotheby's or Christie's.  Then there are local general auction houses that sell everything and don't have special knowledge of books.  The big city galleries have so much overhead that they can only afford to accept big-ticket items.  General auction houses often don't know how to value books.  Additionally, the Internet has been a game changer for book auctions.  With buyers and sellers able to connect electronically many more books have become valuable.
"Suddenly the stakes went way up on what books were worth," Hall says.  "There was nobody there to help people get that value.  They'd be sold in an auction by the pound or sold directly to a book dealer.  People would find themselves in a negotiation without the knowledge they needed.  They found themselves in an awkward negotiating spot."
He saw a niche and decided to open
National Book Auctions
.  Instead of buying and selling books, the new company proposed to work for the sellers, doing the best job possible of researching the books and selling them for their best value.  By adding online bidding he expanded the market of buyers for each auction, upping the chances of more and better bids.  The first auction was in January, 2005.
Today the business also deals with ephemera, art, currency, and stamp collections.  About 80% of that business is in books, with collectable paper making up most of the rest. 
Originally from Vancouver, for a long time Hall thought he would pursue a law career.  While in college he became intrigued with entrepreneurship, graduating from the University of Southern Maine with a business degree.  That led to 20 years of what Hall calls 'chasing ideas.'  An early attempt involved a not entirely successful venture selling Christmas trees in Andover, Massachusetts.  Later he opened an Internet cafe in Ithaca, and the House of Odin bookstore, which was open to the public for a year and a half, and then went to an online-only business.  In the late '90s he was successful at selling on eBay.
"That way the heyday," he says.  "You could put your old left shoe on eBay and someone would buy it.  I stated there and quickly books became an obvious medium for that venue.  They're durable, they ship well.  There are four touch-points on every book: author, title, publisher, and year.  There is a formulaic process that enabled me to hire staff."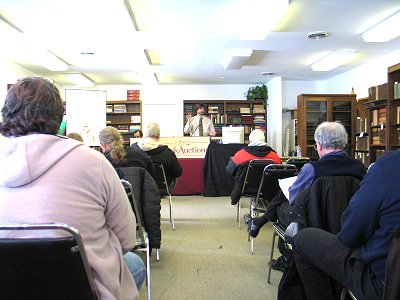 Hall loves the dynamic nature of the auction business, versus running a book store, which he wouldn't like.  A combination of solid book knowledge and showmanship make the business work for him, and make the company continue to be unique.  He currently has six employees.  He says working on commission makes them do a better job, because the better job they do of research and properly valuing materials, the more money they make.
When you come for an auction everything is displayed in a gallery.  The gallery is opened two hours before the live auction, or by appointment.  A detailed catalog is also posted online.  Books are displayed in book cases with the more valuable materials in showcases.
Once the catalog is posted people can pre-bid over the Internet.  Pre-bidding is closed two hours before the auction begins.  But Internet bidders can also bid in real time along with people who are physically attending the auction.  Remote bidders use a special applet that sends bids securely to a computer in the auction room.  An employee next to hall passes him the bids as they come in.  70% to 90% of the lots typically sell to online or phone bidders.  About 10% sells to people physically attending the auction.
The name of the company came from Hall's idea that he would eventually open 100 auction houses around the United States.  But he soon realized that the business doesn't easily translate to that kind of model.  The single location does work nationally, however, handling consignments from far afield and by incorporating Internet bidding.  That attracts some significant finds, such as a first edition of Harper Lee's 'To Kill a Mockingbird,' signed by the author which Hall sold for $6,500 at a March 20th auction.
Some contracts are huge: in 2006 the company was contracted to sell 130,000 books for a library in Texas.  Most are not nearly that large.  But the flow of books is such that the company typically holds auctions every two to four weeks.
"The magic of what we do is in the research.  When we sit down with the books and go slow, and look up what we don't know -- that's when we find the value.  We're advocates for people who have material.  People just have no idea what's there and it's brutal to try to figure out what you have.  We really love our work with estates, because we really feel useful."
---
Photos by Eric Lindstrom
v7i13