New luxury apartments and Class A offices are coming to downtown Ithaca, as the ground breaking ceremony today signals the start of construction at 140 Seneca Way. Mayor Svante Myrick will join the developer, bankers and other public officials as redevelopment of this prominent City site gets underway.
"This project will continue the revitalization of the City by keeping residents and quality businesses downtown," said Bryan Warren, owner of Warren Real Estate and a partner in the project. The project will include 38 apartments plus offices on the first floor, which have been preleased to two prominent organizations in Ithaca, Warren Real Estate and the Park Foundation.
"We hope Seneca Way will be the place to live in downtown Ithaca," said Warren.
"Living one block from the Commons, you're at the center of everything," he said, "and the apartments will be very large, beautifully designed and with lots of upscale amenities. So, you can really have it all." The 38 apartments will have spacious floor plans, designer kitchens and quality finishes, plus many premium amenities, including a private health club, roof terrace, under‐building parking, bicycle storage, and storage rooms. The building will also include many green features, which will help promote a sustainable and healthy lifestyle.
"I'm also proud to have Warren Real Estate as the anchor tenant," added Warren. "We're committed to promoting the success of the City and are very exciting to be part of that with this project."
140 Seneca Way is being co‐developed by Newman Development Group, which is based in Binghamton and has additional offices in Philadelphia and San Francisco. New Development has 30‐years of successful experience with projects throughout the region and across the country.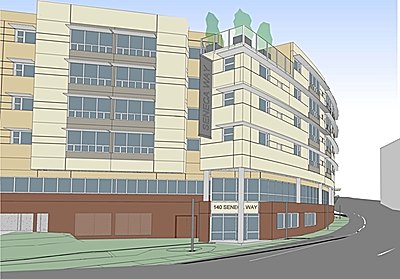 "We wanted to do something significant that would have a positive impact on the City," said Marc Newman, Managing Member of Newman Development, "and I believe that we've done that with an exceptional new project within the downtown business district. Revitalizing our cities needs to be done building by building and block by block," he said, "and here we're transforming a blighted and obsolete property into a beautiful and dynamic building that will be a great place for people to live and work downtown."
Mr. Newman also explained that part of Newman Development's interest in Ithaca is from several of the firm's partners who are proud alumni of Cornell University and Ithaca College.
Plans for the project started more than three years ago. "We had a number of significant hurdles to overcome," said Jeff Smetana, Vice President of Newman Development, "but we had a great deal of support from the City. The Planning and Development Office and Building Department really worked with us to resolve problems and respond to issues, so that ultimately we have a project that will be a great addition to the City." Construction will be completed by fall 2013 and the apartments are expected to attract young professionals, empty nesters and others looking to enjoy the convenience and quality of life available in downtown Ithaca.
Development of the project is supported by a complex financing structure that includes a New Markets Tax Credit allocation provided by National Development Council, as well as additional financing from M&T Bank, Tompkins Trust Company and PNC Bank. Design of the project has been done by HOLT Architects. Construction will be performed by Northeast United Corp., which is part of the Newman Development Group.
v8i44