During the early stages of the construction of Ithaca Tompkins Regional Airport (ITH)'s new terminal, the construction crew discovered a time capsule that had been buried within the previous terminal's wall during the 1994 renovation.
"One of the most interesting things about the terminal expansion project was discovering the time capsule that was buried 25 years ago," says Mike Hall, Director of Ithaca Tompkins Regional Airport.
The time capsule included contents such as the program from the May 21, 1994 Grand Opening Ceremony, photos of then- ITH staff, 1994 Mint Proof Sets, ribbon from the Ribbon Cutting ceremony, original blueprints, and other miscellaneous local and airport-related items from 1994. Miscellaneous items range from an issue of Sky Mall Magazine to a long Wegmans grocery receipt.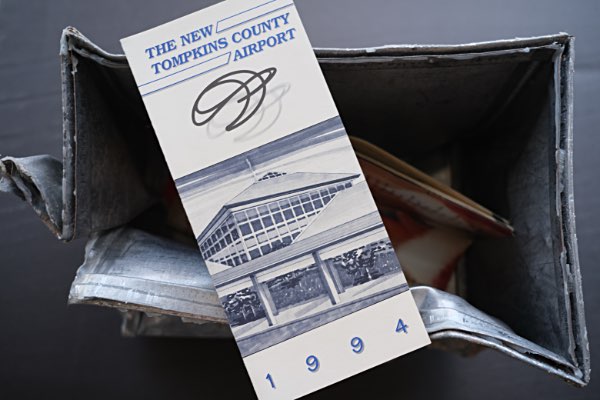 The time capsule also includes a letter from then-Airport Manager Robert A. Nicholas. In the letter, Nicholas makes several predictions about the future, ranging from technology to politics to the future of aviation.
"Building the new terminal was a fun project and being the airport manager here in Tompkins County has been a very rewarding and interesting job," Nicholas wrote. "I look forward to contributing much more to the future of this great little airport…hopefully I will be around long enough to see if some of my predictions will come to be." Nicholas, who is originally from Oxfordshire, England, retired in 2014 after 25 years of service at ITH.
The time capsule also includes a brochure from the 1994 airport update, which outlines the $11 million project. The project produced a new 33,000 square foot terminal, a runway extension, additional parking spaces and boarding gates, and a waiting area for passengers.
Now 25 years later, ITH is nearing the end of its nearly year-long $35 million renovation. This project, intended to expand and modernize the airport, will double the size of the 1994 building, and include six total gates, four jet bridges, a customs facility, and a restaurant and bar.
"We're looking forward to burying the new time capsule, which contains a divider so that we can fill half the capsule with the 1994 items and half with new items that represent our present moment in Tompkins County," says Hall.
In the coming month before the renovated airport officially opens its doors, ITH will be putting together a 2019 time capsule and asking the public for content suggestions.
v15i45