The Village of Lansing will erect a new traffic light at the corner of Triphammer and Craft Roads before the end of this year.  That will add an additional stop for shoppers coming from the north on their way to the malls off of Triphammer Road on either side of Route 13.  Mayor Donald Hartill says the $200,000 project is on track for completion before next winter.
"I should make it possible to get out Craft Road at certain busy times," he says.  "More importantly its going to regiment the traffic so you can get out of (the Village Hall) driveway, which, at times, is almost impossible.  It is especially difficult for the big (Village municipal) equipment and trucks.  So it's going to be much better."
The part of Triphammer Road that Craft Road empties onto is owned by the Village.  That means that the Village is solely responsible for deciding that a light can be erected there, unlike the traffic lights on the Route 13 bridges at Warren and Triphammer Roads and at the intersection of Triphammer and Pyramid Drive, which are owned and maintained by the state Department of Transportation (DOT).  Village owns traffic lights are located at the corner of Triphammer and Graham Roads and at the corner of Warren and Uptown Roads.  The municipality paid for half of a third light where the Post Office driveway meets Warren Road, but that light is maintained by the County.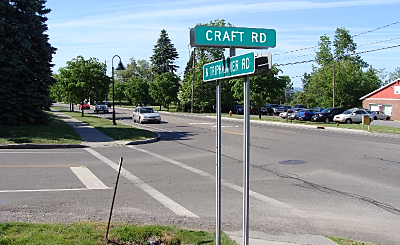 The new traffic light will cost about $200,000 for the traffic lights, poles, the mast that hangs over the street, controls and electronics.  Hartill says the Village has received $25,000 from the Park Foundation to help pay for the signal.  He put the cost of the project into perspective at Monday's Village Board of Trustees meeting.
"The cost per square yard for Triphammer Road, for example, is more expensive than the most expensive carpet you can buy," he said.  "One mile of Triphammer Road cost a little over five million dollars ten years ago."
"We'll probably coordinate it with other traffic lights that we own," Hartill says.  "We're on track to have it finished before the snow falls."
The Village contracts with a service to change the light bulbs and maintain its traffic lights. 
v10i21