By

Dan Veaner

News

Print
People going to the Lansing Post office on Christmas Eve morning were met with a boarded up storefront and a view of major damage inside. Around 4:30pm on December 23rd a Jeep Grand Cherokee smashed through the glass storefront, damaging the counter area, the partition between the counter area and the box lobby, and portions of the box lobby. Glass and debris was scattered over the floor as postal workers worked to remove mail and other sensitive materials. The Lansing Fire Department and Tompkins County Sheriff's Office responded to the incident. Only one United States Postal Service (USPS) employee was inside at the time, and neither he nor the driver was hurt.
"That is the biggest blessing of all that the employee was not in that spot when the vehicle went through," says USPS spokeswoman Karen Mazurkiewicz. "We are working with the owner of the building, who has assured us that he will assess and then correct the structural problems that resulted from the accident. The ball is kind of in his court at the moment as far as timelines. We have not been provided a timeline yet from the building owner."
"We responded with an engine for the water leak," Lansing Fire Chief Scott Purcell said Tuesday. "They broke a water pipe in there, so they had some water damage. We shut the water off to the building."
Purcell said the driver told a Sheriff's Deputy that Jeep Grand Cherokees are subject to a recall because of reports of sudden unintended acceleration. Reported incidents from unintended acceleration include a case in Waltham, MA during which 2006 Grand Cherokee damaged four other vehicles and a fence, and a 15 year old girl killed when a Grand Cherokee accelerated into a crowd of people at a 2014 street fair in Yonkers, NY. Multiple incidents of the model suddenly accelerating in car washes have been reported.
Jeep Grand Cherokees have been plagued with other complaints as well, including a tendency to catch fire after rear impact collisions, and roll-away risks related to a confusing gear shift attributed to the crushing death of 27 year old Star Trek actor Anton Yelchin last year.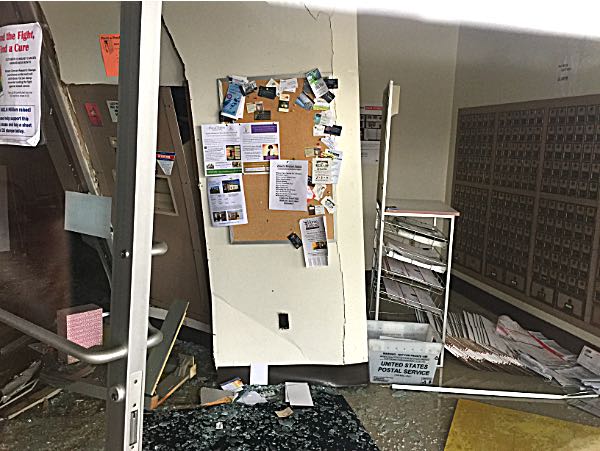 Will the Lansing Branch Reopen?
When a similar accident caused about $40,000 of damage to the same post office in 2008, the facility was closed for nearly two months while rumors spread that the USPS would use the crash as an excuse to close the branch. Mazurkiewicz says a change in national USPS policy means that the branch will reopen as soon as possible.
"We don't close post offices today," she says. "At this moment that's not the way the Postal Service is moving. About five years ago they were moving in that direction, but then they said 'We're not going to do this. Instead, we're going to modify hours at some post offices instead of closing them. That's been the vein we've been in for the last five years. That could change, but at this point in time there is no push to close anything."
A postal service leased facilities report lists the Lansing branch as a 1923 square foot storefront that the Postal Service rents from Village Green Real Estate, LLC. The current lease goes through April 30th, 2018. But Mazurkiewicz says there are no plans to close the branch, and the USPS intends to negotiate a new lease when the time comes.
"We have been assured by the building owner that those building fixes will be done," Mazurkiewicz says. "We have not, at this point, been given a time when we can be back in there, but that is our intent. At this point we believe, in good faith, that the matter is being addressed, and we're just waiting to hear back as to what the potential timeline is."
Impact on Lansing Customers
Beyond waiting for it to reopen, what will be the impact on PO Box-holders and other Lansing customers?
Lansing box-holders pay the same rental prices as those whose boxes are in facilities with their lobbies open 24 hours a day, but can only access their boxes less than five hours per day. That is because the Lansing branch does not have secure walls that other facilities such as Ithaca's Warren Road post office do, so the lobby in Lansing can only be open when an employee is present. Now Lansing box-holders are facing an open-ended period during which they will have to drive farther to stand in line to get their mail. The Postal Service has no plans to refund or extend a portion of box rents.
"Generally that is not our policy," says Mazurkiewicz. "Customers always have the option of getting street delivery, and that would be one service they could get for free. Though we realize that is not the most convenient thing for every customer, that is always available."
Box-holders can switch to street delivery by filing a temporary change of address on the USPS Web site or by filling out a form at the Ithaca Post Office. Temporary address 'forwards' are good for up to six months, and may be cancelled at any time, so that may be a good choice for some box-holders. But there are caveats. Some mail is not forwardable, and there may be a day or two delay for mail that can be forwarded.
"Now, in our age of technology, mail is corrected on the run," Mazurkiewicz explains. "So if somebody is mailing something from California to New York but you have moved to Florida, in the old system the mail piece would go from California to New York. It would be pulled when it got to New York and rerouted to Florida. Now as soon as that address is read on most of the letters and some of the flats there's a flag that says this person is no longer in New York. That mail is pulled out of the regular mail stream in California and rerun to get the new address, and it literally goes from California to Florida."
First class mail, including bills, is eligible for this kind of direct forwarding. But mail that is not qualified for this forwarding service will take longer, going to a central facility in Michigan before being mailed to your street address. Bulk mail, including periodicals are not forwardable, so unless you change your address directly with each magazine you may not get that mail.
To initiate a temporary forward online you have to confirm your identity with a credit card charge of one dollar.
"That's for verification purposes," says Mazurkiewicz. "Not because we're looking to get the dollar. When your credit card matches your address it's a way to identify that it's really you asking for this change. The second way is to go to the post office, ask for the change of address form, and make sure you mark it as a temporary change of address. You save yourself the dollar."
After the 2008 incident Lansing box-holders could go to the Ithaca Post Office Customer Service window to get their mail without standing in the general counter line. As of Tuesday there was no such process in place, because that desk is no longer manned. But Mazurkiewicz says that Manager of Post Office Operations Tom King, who oversees the Ithaca post office and its branches, plans to talk to local postmaster Bill Hrynko about the possibility of putting a similar solution in place.
"We obviously know it's an inconvenience for the customers, and not an ideal situation," she says. "Our most important thing is that we continue operations. Our hope is that we can get back into that facility as soon as possible."
v13i1