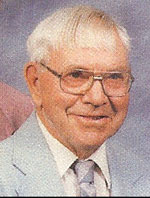 Clarence C. Benson, age 93, passed away Saturday, April 24, 2010, at the Groton Nursing Facility.
Born at home in Groton, NY, on January 4, 1917, he was a son of the late C. Fay and Marjorie (Buck) Benson. A 1935 graduate of Groton High School, Clarence was a lifelong resident of the Groton/Lansing area. He went to work dairy farming right out of high school and enjoyed his labor of love for over 50 years at Bensvue Farm on Lansingville Rd.
Clarence was an innovative farmer pioneering many of the technologies that are common today; including a milking parlor in 1959; bunker silos in1963; a freestall barn in 1968 and a waste lagoon in 1973. In his retirement years he enjoyed tending his apple orchard and selling the fruits of his labor. He was a member of the Lansing United Methodist Church, Tompkins County Farm Bureau, past member of the Lansing School Board, past member and director of the Owasco Valley Milk Co-Op and chairman of the Building Committee for the Lansing United Methodist Church. Clarence and Mary enjoyed many trips across the United States in their motor home and were fortunate enough to spend numerous winters in the southern states where many lifelong friendships were formed.

Clarence is survived by his beloved wife of nearly 67 years, Mary Munson Benson; their children, C. Charles (Andra) Benson of Lansing, Marjorie (David) Randles of Argyle, NY, Johanna Benson of Argyle, NY, Lainie (Timothy) Hawley of Sodus, NY and Fay (Linda) Benson of Groton; sixteen grandchildren and eighteen great grandchildren; his brothers, Russell (Rose) Benson of Lansing, Norman (Earlene) Benson of Groton; and a large extended family.

In lieu of flowers, those wishing to remember Clarence in the form of a contribution may consider, Lansing United Methodist Church "Haiti Fund", 32 Brickyard Rd., Lansing, NY 14882 or Gadabout, 737 Willow Ave., Ithaca, NY 14850.

Family will be present to receive friends from 5-7 pm on Thursday, April 29th at Lansing Funeral Home, 32 Auburn Rd., Lansing, NY. A memorial service, officiated by Pastor William Gottschalk-Fielding, will begin at 11 am on Friday, April 30th at Lansing United Methodist Church, 32 Brickyard Rd., Lansing, NY. Inurnment at West Groton Cemetery will be private at the convenience of family.