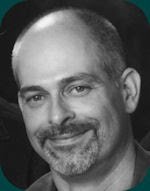 Akron, NY - Brian Kevin Cleveland, 43, of Akron, NY and formerly of Lansing, NY, passed peacefully surrounded in love by his family at Roswell Park Cancer Institute on July 15, 2010. Devoted and beloved husband of Kathryn (Pagels) Cleveland; loving father of Jonathan C. Cleveland and Colten V. Cleveland; cherished son of Sidney C. Cleveland and Sandra (Vincent) Cleveland; greatly loved brother of Lorraine A. Cleveland and Christine C. Crossgrove (James) and wonderful uncle of Cassandra L. Mazur, Benjamin D. Crossgrove and Kevin J. Crossgrove.
Brian was born in Batavia, NY on March 28, 1967. He attended Albion Elementary School and was a 1986 graduate of Lansing High School and an outstanding swimmer for Lansing. Serving UPS as a delivery and feeder driver for 25 years, Brian demonstrated exceptional loyalty as an employee and co-worker. He married Kathryn at Roswell Park Chapel on February 14, 2008.
He volunteered as a firefighter and was a member of the Lansing United Methodist Church in Lansing, NY. Brian was an avid hunter and fisherman, a member of The National Turkey Federation, North American Hunting Club and the NRA. He volunteered as an environmental educator and bow instructor for New York State. Brian will be remembered for his amazing kindness, generosity, sense of humor and deep love of family, friends and the great outdoors, especially in Allegany County, NY. Brian's courageous spirit will live on forever in the hearts of those who were closest to him. The family wishes to thank Dr. Meir Wetzler and the staff of Roswell Park for the remarkable and compassionate care that Brian received during the past three years.
A special Celebration of Life will be held Saturday, July 24 at 1:00 pm at the Akron Fire Hall. Friends and family may attend this luncheon to celebrate Brian's life and memory. At a future date, there will be a memorial service at the Lansing United Methodist Church in Lansing, NY. Interment and family gathering will take place in Allegany County, NY at a private memorial during autumn, Brian's favorite season. Those wishing to honor Brian can contribute to the Jonathan and Colten Cleveland Scholarship Fund, Financial Trust FCU, 3333 Harlem Road, Cheektowaga, NY 14225.
Click here
to leave online condolences.