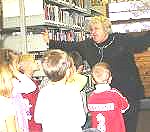 Susan Rosenkoetter of Ithaca, NY passed away in Hospicare on September 12, 2010 at the age of 71. She was the daughter of the late Elmer and Dorothy (Davis) Rosenkoetter. She is survived by her cousins Jerry (Ron) Burke, Andy (Bob) Dake, John Davis, all of Lansing, Noni (Keith) Chatterton of Sandy Creek, Donna Folk of Florida, several cousins from Illinois and a close friend, Joan Sears and family from Syracuse. Susan was predeceased by a brother Carl W. and a cousin Bill Davis.
Affectionately known as "the book lady" to hundreds of students educated in Lansing, Susan grew up in Myers, attended Lansing Schools and Ithaca College, then pursued a fulfilling career as Young Adult Librarian in the Rochester Library System.
After a successful career inspiring youngsters to read, Susan wanted to continue to share her love of books with children. Upon retirement, she returned to her native Lansing where she became an integral part of the community.
In addition to book talking to students at all three schools in Lansing, the library, and other venues, Susan sponsored Lansing teachers at multiple reading-based conferences, including the annual National Council of Teachers of English conference, donated hundreds of books to the school libraries, volunteered at the Lansing Community Library and organized their Summer Reading Program for years. Susan also sponsored several popular Young Adult authors in the Lansing schools. In the spring of 2009, she was recognized by the Lansing Board Of Education with a plaque, reception, and formal recognition for her years of generosity to the district and the community.
Susan's love of literature and children were inspired by her mother, Dorothy, who encouraged her to read and excel as a child. Her fond memories of growing up in Lansing prompted the 1957 salutatorian of Lansing Central Schools to return to her hometown to share her love of reading with new generations of students.
Susan was most recently honored last spring by the Tompkins Trust Company with an Award for Excellence for her outstanding volunteer service to the community. Her love of literature is her legacy. A memorial service will be held at the Lansing United Methodist Church on Tuesday, October 12, 2010 at 3:30pm. Donations can be made to the "Susan Rosenkoetter Youth Literature Project" c/o Lansing Central School District or to the charity of one's choice.