By

Gus Axelson

Sports

Print
Junior Catie Eisenhut made big waves on the Upstate New York Cross-Country scene this past week, finishing 2nd overall in regional race that drew more than 250 runners and then setting a new course record at Lansing's home XC meet.
On Saturday Sept. 22, Lansing XC trekked up north of Syracuse for the Baldwinsville Invitational, a mega-meet that draws the top cross-country programs and runners from throughout the region. The Lady Bobcats varsity XC team competed against 44 other schools and finished 3rd overall, led by Eisenhut's headturning 2nd place overall finish (18:20.2 on the 2.95-mile course) in the field of 263 racers. Perhaps just as impressively, Lansing eighth-grader Kinsley Jacobs finished 5th overall (19:11.1), and the other three top Lady Bobcat placed in the top third of finishers (junior Teresa Garcia 35th, Sophomore Hana Thibault 66th, Senior Allison Keefe 73rd).
The Lansing varsity boys XC team also had a good morning, placing 21st out of 35 scoring teams, with junior Jack Thomas leading the way for the Bobcats with a 24th place finish (16:59.4) out of the field of nearly 300 runners. Other scorers for the Bobcat boys were junior Ryan Barton (53rd, 17:35.8), sophomore Teddy Brenner (18:33.8), freshman Sam Bell (18:58.8), and freshman Zachary Hwang (20:57.3). The Lansing boys also fielded a team for the JV race, which was led by sophomore Anders Axelson (22:09.0), freshman Daniel Dedrick (22:13.3), senior Trey Warner (22:19.9), sophomore Dowain Geesey (23:02.2), and freshman Arjun Kodali (24:41.7).
Both Lansing modified teams also fared well at Baldwinsville, with the boys' modified team placing 7th out of a field of 25 teams, led by 8th grader Seth Riley's top 10 finish out of 265 runners. Seventh grader Vanessa Bell recorded a top-50 finish (42nd overall) in the modified girls race that included 233 runners.
On Tuesday Sept. 25th, morning rain made the XC course at the Town Center Trails into a 5K obstacle course of mud puddles for Lansing's only home meet of the season against Watkins Glen, Dryden, and Moravia. Somehow Eisenhut managed to shine again in racing through the muddy slop, as she set a new girls' course record in the 5K race with time of 19:23.7 to lead the Lady Bobcats to victory with a 1st place team finish. Lansing girls occupied three of the top five finishers, with sophomore Emmaline Jackson finishing 3rd overall and Jacobs finishing 4th. Garcia and senior Eden Jackson rounded out the scorers for the Lansing girls team.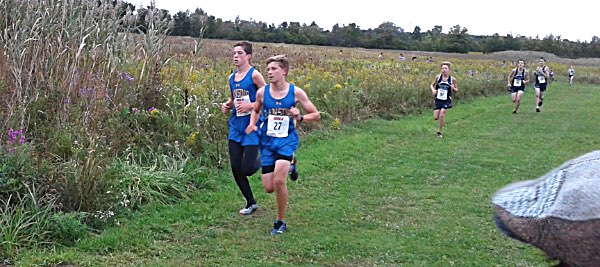 On the boys side, Lansing varsity finished 2nd to the regional XC powerhouse Watkins Glen squad, with Bobcat runners occupying four of the top 10 spots among finishers (Thomas 3rd overall at 18:28.3, followed by Barton in 7th, Sam Bell in 9th, and Brenner in 10th). Freshman Caden Michalec rounded out the scoring for Lansing at 17th place.
The Lansing modified teams put up strong showings at home as well, with Bobcats occupying six of the top 10 finishers in the boys' race (led by Riley, who finished 1st overall at 9:43.8 on the 1.5-mile course). The modified Lady Bobcats were led by Vanessa Bell and 7th grader Abby Brown, who finished 3rd and 4th respectively.
Lansing XC head coach Becca Lovenheim reflected on her teams' performances at Baldwinsville and at home: "It's been an exciting series of performances for all four teams with big drops in time and effort. We eagerly anticipate McQuaid this weekend!"
"McQuaid" is the McQuaid Invitational in Rochester, one of the biggest XC events in the country, drawing teams from five states and Canada. The Bobcats are hoping to build on last year's success at McQuaid, when the boys team finished in the upper half of a field of more than 50 schools and the girls put a finisher (now graduated Mikaela Garcia) in the top five finishers out of a field of 250 runners.
v14i37