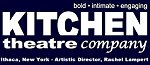 The Kitchen Theatre Family Fare series continues in May with 'Voices: Those Who Wore The Shoe'. It will be offered to Kitchen Theatre audiences for a limited engagement of two performances only: Saturday, May 16 and Sunday, May 17 at 1pm.
It was with great urgency that in 1934 the Federal Writers' Project sent hundreds of writers across the country to interview former slaves and record their personal histories. Most of the former slaves were in their late 80's to early 100's, so it was imperative to collect their stories before they were lost to the historic record. The FWP recorded over forty thousand pages of transcript from these extraordinary interviews.
Fifty-nine years later, actor/writer Harlin Kearsley used this vast collection of true stories to create 'Voices: Those Who Wore The Shoe', a multimedia "staged documentary" that incorporates music, dance, and archival photographs to help recreate and examine an oft-neglected part of American history. Two professional actors (Harlin Kearsley and Kimberlyn Crawford) bring to life characters that lived during the period that begins in the time of slavery, continues through the Civil War and Reconstruction and ends with the Great Depression. A town hall style Q&A session follows each performance. The performance is appropriate for ages 10 & up
Voices had its premiere in New York City in the fall of 1993. In 2000, the play was adapted for radio and aired on various National Public Radio stations across the country on February 22, 2001 and continues to air every Black History Month. Kitchen Theatre fans will remember Harlin Kearsley who appeared in the Kitchen Theatre Company's production of Tanya Barfield's PECAN TAN in 2005.
----
v5i16