Lansing is the happening place on summer Thursdays and Fridays.  Music fans fill Myers Park for Thursday night Concerts In The Park.  On Fridays they come to the smaller venue at Ludlowville Park.  Park Superintendent Steve Colt says this year's lineups for both venues are outstanding.  They boasts strong lineups of new and returning bands, and Colt says he is hoping the weather cooperates so folks can enjoy all of them.
"If you get a nice night down there it's special," he says.  "What I enjoy the most is observing everybody enjoying the night.  They hear the music, but it also becomes a social event.  That's great.  Sometimes you get wrapped up in your life and don't get a chance to see people and talk to them.  An awful lot of that does go on down there and that's great."
New to the series at Myers this year is Bad JuJu and The Guilty.  Bad JuJu is a rock band that blends the old and the new.
"It's traditional rock -- old school, new school stuff," Colt says.  "Shannon Rae and Marty Flynn are also the Shannon and Marty duet scheduled for the Ludlowville Park series on July 25th. They are really good musicians.  I'm getting a lot of good feedback about them and I am anxious to hear them down there.  In that venue with their following they'll do very well that night."
The Guilty is a Country band with some blues mixed in.  Between the two of them Colt expects good crowds.
"A lot of folks really enjoy Country.  Some of our best turnouts are for Country bands," he says.  "If you based it just on the gate count, Country and 50s/60s rock and roll are probably two of the biggest draws.  We've had excellent talent.  Sometimes you may not get the draw because a genre may not be somebody's cup of tea.  But from a musicianship standpoint I think we've had really good talent.  We're really glad for that."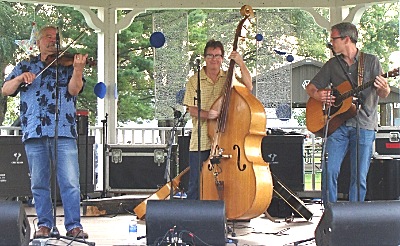 Other dates feature southern rock, rockabilly, dixieland, R&B and latin, swing and funk, and classic 70s and 80s rock.
"We like to stay diversified with our music choices," Colt says.  "We try to keep it diversified.  It would be easy to have seven weeks of the same thing.  You have to keep it fresh and keep the genres diversified so you can reach out to more people."
Colt is always looking for something new.  He says he is considering adding a dance floor at some point.  He is working on a smaller venue indoor concert for the Fall.  For the Myers series he is thinking about facing the stage toward the park, rather than toward the lake to accomodate and with growing crowds.  To do that he is working on an idea to add a removable thrust stage that would cover the stairs at the front of the bandstand.
"Last year we had a combination of a the Destination Band, a really popular group, and a perfect weather night," Colt says.  "The crowd was huge.  We could have flipped it that night and had them play down the center of the park.  Because the bandstand is in the round a lot of these bands might have more people on the sides of them than in front of them because people get comfortable where they like to be in the park and they sit there."
That would certainly work for  Iron Horse, which opens the Myers series this year, or Steve Southworth and The Rockabilly Rays.
"Steve Southworth is a guy that's been at it for a long, long time," Colt says.  "This guy grinds out hit after hit from the 50s and 60s.  It's nothing for him to start at 6:30 and play until 8:30 or 9 o'clock and never take a break.  His song list has got to be like a New York City phone book -- it's big!   They give you a show.  Last year we had a little iffy weather, but he stayed.  When the storm passed they played anyhow."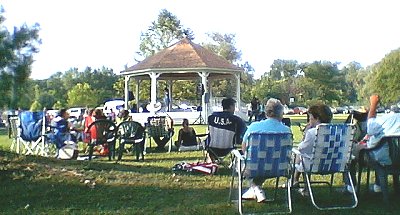 Colt attributes the growing size of concert crowds to great musicianship, but says that many of the bands have loyal fans so they bring new people to Myers Park.  When they get there they like what they see and are likely to return for other activities.
"Some groups have their own following," he says.  "They'll follow a group wherever they're playing.  That group will set up and play down there and you see a lot of people you don't recognize.  It's great, because it's exposure to the park.  You get comments about how nice it is and how people want to come out and visit it again."
Admission to both concert series has always been free, but donations are accepted.  Colt says that concert goers have been so generous that donations accepted at Myers Park concerts completely cover the cost of both concert series.
Colt says there is so much good area talent that he can mix up the lineups from year to year.  He tries to represent a variety of genres every year, and wants to provide something for everybody.
"If I had to pick a personal favorite -- I'm a big jazz enthusiast," he says.  "But I don't play favorites and we don't have a jazz band this year.  You try to bring groups that draw well, that play well.  I like groups that people enjoy.  I am open to new groups and suggestions.  You rotate bands out and bring them back in."
2014 Myers Park Thursday Concerts:


July 10– 6:30 – Iron Horse leads off the season this year and is sure to get it all started with a big crowd. If you like "Southern Rock" you can't miss this concert. Featuring Lansing's own Mark Armstrong and band mates Ron Brock, Mike Caloroso, Shawn Manning and Steve Peck. Plan on getting to the Park early!
July 17 – 6:30 –Bad JuJu "A musical marriage of old school & modern rock done right". Band members are Shannon Rae (lead vocals), Marty Flynn (lead guitar, vocals), Jim Dagnesi (bass guitar, vocals) and Carl Sangiacomo (drums). Bad Ju Ju is proof that Rock and Roll is still alive and well...
July 24 – 6:30 –The Guilty "A Country rock band with a dose of working mans blues" Band members are John Gain (founder, vocals, guitar), Tommy Whittle (lead vocals, harmonica), Guy Smith (vocals, guitar), Mark Whittig (vocals, guitar), Joe Firori (drums) and Patrick Gaughan (bass).
July 31– 6:30 – Steve Southworth and The Rockabilly Rays return from last year with a great show and a huge crowd. A long time favorite and the ultimate tribute to the legends of the 1950's and early 1960's and boast a HUGE play list!
August 7 – 6:30 – The "DixieKats" A concert, show and dance band who play a variety of traditional Dixieland and Bayou Gumbo. The band plays music made famous by Louis Armstrong, Pete Fountain, King Oliver and more recently Dr. John, Randy Newman and the Neville Brothers. A great 7 piece band!
August 14 – 6:30 – The Destination Band is a 9-pc. dance band with its musical focus in the genres of R&B, Latin influenced material, Swing and Funk/Disco. Three outstanding vocalists and four horns set this group apart from virtually every other group in the CNY area. The band's "A"-list repertoire is built around the power of the horns. No other group in the area can match the dynamics and crowd motivating force of The Destination.
August 21– 6:30 –Bad Alibi Bring your dancing shoes for the final concert of the season as Bad Alibi will play the best Classic Rock tunes of the 70's & 80's you will all remember. Band members are Lansing's own Scott Hollister on drums and Rob Romano on keyboard and vocals, along with veteran musician Rick Kline on bass and Zach Rohrer on guitar.

Ludlowville Park Friday Concerts


July 11 - 6:30 - Tru Bleu – Three musicians who are dedicated to writing, playing and singing music with heart, soul, and meaning. Kip Opperman, Jennifer Giroux and Paul Parks are great! Bring your picnic to the park early!
July 18 - 6:30 - Bob & Dee – Bob Walpole and Dee Specker are award winning and favorites in the Finger Lakes. Bob, a lifelong accomplished musician, and Dee, a Nashville recording artist and Grammy nominee!
July 25 - 6:30 - Marty & Shannon – Locally raised, and a regional favorite! Great originals and covers!
v10i22