A couple years ago, we saw signs for a new cidery in the Interlaken region. It was off on some old dirt road in the quiet ranging farm land East of Powell Rd – you know, a direction we never travel. Over time, the signs got a bit larger, fancier, more professional and more inviting and finally, irresistible.
Driving Hickok Road up the hill from Rt 89 is always a slalom course to avoid the potholes, but I promise you will find it worth the distress to your suspension. The gravel driveway is better surfaced than the road. Maybe Interlaken can do something about that.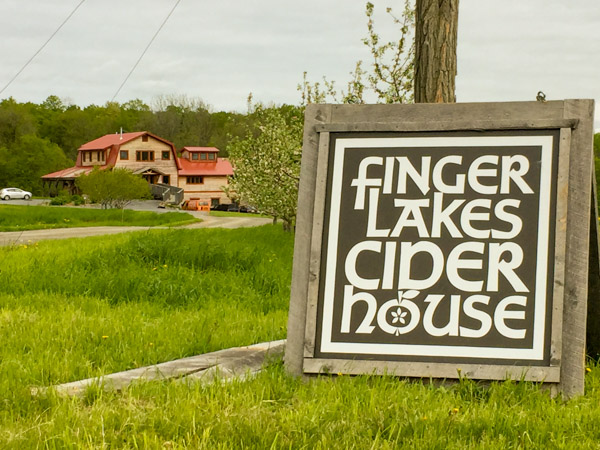 Arriving early this Wednesday afternoon, we were the only ones there, and our hostess Val told us of some of the history of "Good Life Farm" and its special features. The Cider House markets not only their own "Good Life Cider" and "Kite and String" brands, but also the produce of Eve's Cidery, Black Diamond Cider and Redbyrd Orchard cider, Of course, we had to taste them all.
It was a moral imperative.
Of course we tasted the ciders, but they have a few additional surprises, in particular their 2016 Pommeau. They refer to it as "Still Fortified Cider". Here is their description: "Fresh apple spirits custom distilled at Finger Lakes Distilling in Burdett, NY. Blended with unfiltered Golden Russet, Dabinette, and Margil juice, aged in American Oak. Velvety layers of dark cherry, anise and bourbon.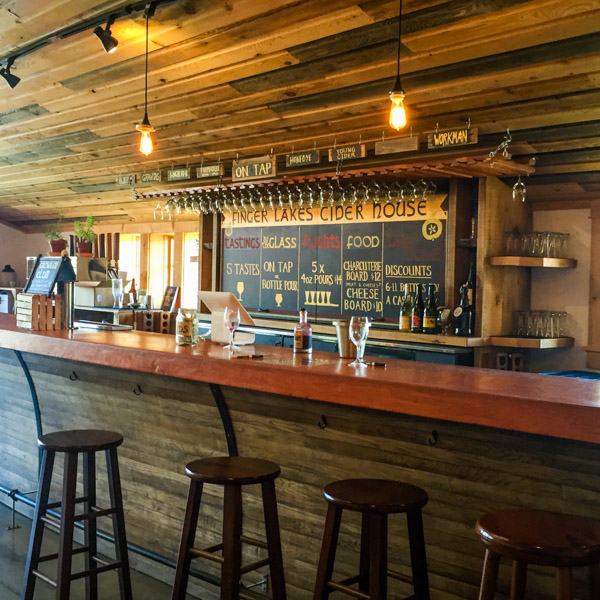 In short, a dessert spirit to be savored and hoarded. I don't know if I'll ever share mine…
Their offerings don't stop at ciders and spirits, they also serve Friday dinners, hyper-local, with the names of the dozens of local farms and producers prominently displayed along with the chef's creations. The menu changes frequently to match the freshest crops harvested by the producers giving patrons a unique experience and taste with every visit.
This is one of the few tasting rooms that are dog friendly, although they request that you keep your pooch well controlled and leashed at all times.
Sounds appropriate to me.
For more information just drop in for dinner any Friday. Reservations are required for tastings for groups of over 8 people.
And the best feature of the
Finger Lakes Cider House
?
It's Within Reach.
Enjoy!
---
'Within Reach' highlights the food, wine and fun of places 'within Reach' of Lansing NY. Of course, your reach extends exactly as far as you want it to. I am
Monroe Payne, Uncle Monte
to some. Come with me as I visit, taste and play in our own back yard, the beautiful Finger Lakes of Central New York.

v13i24