By

Jim Harper

Around Town

Print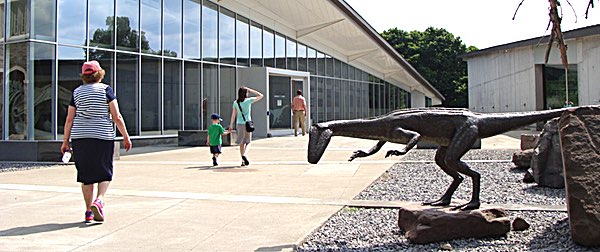 The Paleontological Research Institution (PRI) has a long history of serving a wide and diverse audience, from scientists to school children, and its two public educational venues—the Museum of the Earth and Cayuga Nature Center—each have their own unique audiences. With the goals of improving ease of access and enhancing visitors' experience, PRI has launched a new suite of integrated websites.
With over seven million specimens, PRI's world-class fossil collection attracts researchers from around the world. PRI's publications include the oldest continuously published scholarly journal on paleontology in the Western hemisphere (Bulletins of American Paleontology), as well as a wide range of books about paleontology, geology, and Earth science education.
Scientists at PRI work to discover the history of life to better understand Earth's past and the importance of biodiversity and environmental change for our future. Their nationally recognized outreach staff transforms this knowledge into resources to educate students about Earth science while also providing professional development for teachers on how to best integrate Earth science into their curriculums. Their work includes disseminating PRI's extensive resources on climate change education.
The two public venues of PRI, the Museum of the Earth and the Cayuga Nature Center (along with its companion old-growth forest at Smith Woods), provide entertaining educational resources for people of all ages and backgrounds to learn more about the Earth and their place on it.
To meet the needs of the amazing diversity of audiences for our services, PRI has been engaged in a multi-year review and overhaul of their Internet-based services. They are continuing that effort by providing the three new and enhanced websites:
https://www.priweb.org/
,
https://MuseumOfTheEarth.org
, and
https://CayugaNatureCenter.org
.
An exciting feature on PRI's main site (priweb.org) is their new science blog, which consists of short essays on a diversity of topics—ranging from paleontology to evolution to climate change—that are written by PRI staff. Several posts are already available and can be read at
https://www.priweb.org/blog
. New posts will be added regularly and are announced on PRI's social media accounts (Twitter: @prinstitution; Facebook: @museumoftheearth).
With the goal that their sites can be enjoyed by everyone, regardless of who you are or what kind of device you're using to access the web, PRI's new websites have been specifically designed to be mobile-friendly and ADA accessible.
In addition to their three main websites, a number of ancillary sites are being developed to further enhance the ability for researchers, educators, and the general public to access the wealth of information that PRI disseminates.
PRI Collections department's Specify web database includes online access to thousands of meticulously documented specimens in their collections and continues to grow daily (
http://pricollectionsdatabase.org/
).
The Digital Atlas of Ancient Life (
https://www.digitalatlasofancientlife.org/
) includes region-based field guides to fossils, a integrated open-access textbook about ancient life, curricular resources for teachers, and an interactive Virtual Collection of 3D models of PRI specimens for students and fossil-lovers to explore online.
A new way of accessing their Earth science resources is being envisioned at PRI with the upcoming Earth@Home web portal. The goal for this platform is to become a quality, place-based resource for information about Earth science and climate change where you live.
v16i10