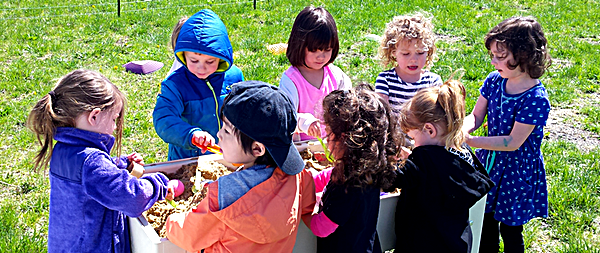 When
Sweet Peas Nursery School
closed for Spring recess it was located at Jump Around Inflatables. When it reopened last week after Spring vacation, it was an entirely new space in the old fire house on Ridge Road. The new, spacious, 1,400 square foot school room has an open feel, but with distinct stations for learning and play. Director and Lead Teacher Stacy Wilder says it's the perfect location, and a good fit with the business next door, the Cayuga Lake Seido Karate dojo.
"They're complimentary businesses," she says. "Our hours are complimentary. We're here during school hours, and they're here after school and on the weekends. It's also a professional space with great lighting and air conditioning. We were really excited to make the move."
Wilder founded Sweet Peas in 2011, after learning that all the local preschools had waiting lists. Owning a preschool had been a dream and the time seemed right. The first year she enrolled 18 children, which enabled her to hire an assistant teacher. The program was an instant success, so much so that she added another teacher in the second year, enrolling 22 students.
Wilder is still filling her classroom, and word has spread to neighboring towns. Some children come from Ithaca, the Village of Lansing, Southern Cayuga, Groton, and Dryden.
"They love to be the sweetest pea," Wilder says. "That is the helper of the day. Everyone gets multiple turns to be the sweetest pea. They get to do the calendar, they get to be the line leader, and they get to bring home the coveted mystery bag."
When they get the mystery bag home, children put something in it for show and tell the next day. They bring it back to class, and their classmates guess what's in it -- a variation of 20 questions. Wilder says the kids also love arts and craft time, singing, and story time. And snacks.
For its first five years Sweet Peas held classes at the East Shore Christian Fellowship Church for the school's first five years. This year she moved her school when the church decided to renovate its building, but the acoustics of the new space and the fact that it was shared with other events made a lot of extra work moving classroom furniture and materials in and out. The school moved to a space at Jump Around Inflatables. But with high ceilings that echoed loudly and having to move things around because the space was shared with weekend special events, Wilder continued looking for a place of her own. In January she noticed the tenant in the fire house -- converted to commercial space after it was replaced by Central Station -- was moving out. She immediately called the landlord and secured the space.
She started moving Friday after class. Three days later the school was nearly ready for the children. Wilder's husband helped paint and various jobs around the school, and her 14 year old daughter assembled the doll house, mats and other odd jobs. Later in the week the playground was moved behind the new location, and a fence put up. With time to spare, the school was ready for the children to come back.
"What's really exciting for the first time we don't have to share our space," Wilder says. "At the church we shared our space with the Sunday school. At Jump Around we had to share the space with their other business. This is just ours. No-one will be using our playground except us. No one will be in this space except us. It's a great feeling for me."
Having her own space also means she can expand her business. Aside from one-week summer camps -- four this summer -- she plans to add an afternoon session in the Fall.
"We're calling that program 'Lunch Bunch'," she says. "Everyone will bring a lunch bag and we will start our day together with a community lunch. The teachers will eat lunch with the kids for the first 15 to 20 minutes. As people finish they'll clean up and start to work in the centers. Then we'll follow a normal routine with circle time, centers and outdoors."
She is also considering afternoon drop-in spots. Lansing Drop-in Center meets Monday, Wednesday and Friday mornings. Wilder is considering supplementing that with afternoon drop-in on Tuesdays, Wednesdays and Thursdays. It also opens the possibility to rent the classroom for birthday parties, but Wilder says she's not ready to do that yet.
"I feel like now that we're here I can look ahead to how we might expand and grow and look at different programming that we couldn't do in our other locations because of space-sharing logistics," she says.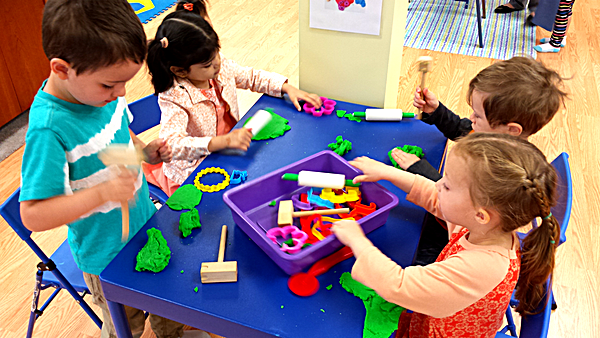 Wilder says she has learned a lot about helping families support their children's academic experience, and helping parents understand how to help their children socially and emotionally as well. A lot of lessons have come from a regular meeting of preschool directors, where they get a chance to compare notes. Topics range from the business of collecting when parents don't pay tuition to detecting children who are victims of abuse at home and learning what to do in such cases."
"We take turns meeting at each others' schools," she says. "I've learned so much about early childhood education from these other women who have been doing it a lot longer than me."
She has also had to learn about the business of running a school, including handling overhead, insurance, payroll and workman's compensation and everything else that comes with running a business.
But after nearly six years her favorite thing is to meet families of the more than 100 alumni of her school around town, and seeing her students succeed in elementary school.
"It's impossible for me to go anywhere in town and not see a Sweet Pea family, which I love," says Wilder. "When I go to a concert or something at school, I sit in the auditorium and count the sweet pea families around me."
v13i18