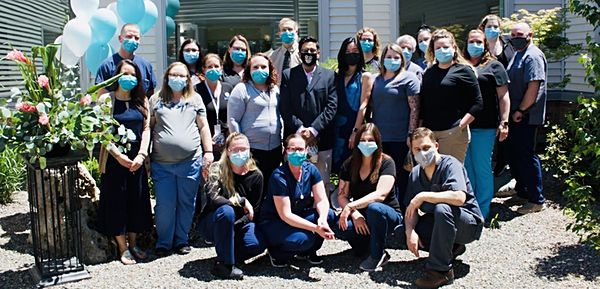 Dermatology Associates of Ithaca released their
New Office Dedication Video
last week, in a socially distanced ceremony that invited participation from the community. Due to COVID-19, the organizers adapted the ceremony to prioritize safe social distancing, involve the community, and thanked all who have supported their mission of providing excellent Dermatology care to the community. The video features community members and local as well as national organizations such as original Dermatologist Dr. Robert Horn, the Harvard Dermatology Residency Program, the American Academy of Dermatology, Bethel Grove Bible Church, Women Swimmin' for Hospicare, the Community Foundation of Tompkins County, and Racker.
"We are honored to have cared for our community's skin health since 1983, and to continue providing top notch care even in this time of COVID-19. Skin cancer and skin disease don't take a pause and in fact, our new lifestyles during COVID-19 can worsen existing skin disease such as acne and rashes and skin cancer. We are happy to be here to help! By working together as a team and adopting best practices from around the world, we have thankfully been able to keep our patients and staff and community safe and well cared for," noted Dermatologist Dr. Josephine C. McAllister, MD FAAD.
The New Office Dedication Video features the work of Chiang O'Brien Architects—which also designed the new Cornell Health building—and showcases the expertise of Jon Hammond Builders as well as many others in transforming 1051 Craft Road from a Tompkins Insurance building to a state-of-the-art Dermatology office. The ceremony included a dedication prayer by Bethel Grove Bible Church Associate Pastor Dr. Santosh Ninan, tropical flowers from Michaleen's, and New Office Dedication Cookies by Ithaca Bakery which were used in a cookie toast.
As the Dedication Plaque now installed in the front entry states, the new building on 1051 Craft Road now stands as "A Loving Tribute to Our Patients and Community."
v16i28