Created: Thursday, September 22, 2005
Last Updated: Saturday, September 29, 2007
| Thursday, September 22, 2005 |
By Dan Veaner

"Water, water, everywhere,
And all the boards did shrink;
Water, water, everywhere
Nor any drop to drink."
Samuel Taylor Coleridge, who penned these lines in "The Rime of the Ancient Mariner," must have been haunting Wednesday's Lansing Town Board meeting, which was dominated by discussion of water district proposals. The Town Hall was nearly filled with residents concerned about the Algerine Road/Lansing Station Road water extension proposal, a proposal for Drake Road, and one on Lake Ridge Road. When Town Supervisor began the meeting by quoting Coleridge he wasn't kidding.

By far the most controversial proposal is the one being developed for Algerine Road and part of Lansing Station Road. Those on the latter roadway, which includes many lake shore properties, want town water and tend to be able to afford it. In order to get water down to them the line must run down Algerine Road, where many residents have perfectly good wells and are adamantly opposed to the fees they would have to pay.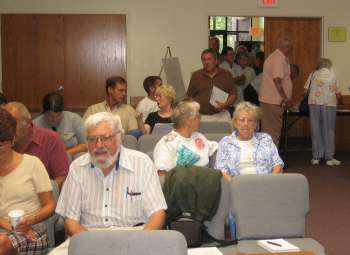 The crowd filled the room at Wednesday's Town Board meeting

The public was invited to address the board on any item that was not on the evening's agenda. Beverly Abplanalp of Algerine Road delivered an angry statement to the board, demanding to be removed from the proposed water district and refusing to pay proposed fees. When she was finished Town Supervisor Stephen Farkas reminded the crowd that the purpose of this meeting was informational, and that there would be a public hearing next month in which residents could address the board.
At that point Town Engineer David Herrick presented the plan, explaining each point to residents. He explained engineering considerations as well as cost and funding issues. The total cost of the project in its current form would be $770,000 to be paid for over 30 years using serial bonds at 5.5%. The average annual cost to homeowners to pay off this debt would be $565 per year. Hooking up to the system and water usage is not included in this payment. Mr. Herrick mentioned that alternative funding could reduce the debt.
An alternative that may be available is a lower cost loan provided by the state, based on health needs. John Anderson, from the Tompkins County Health Department reported that a well in the area had tested positive for crypto sporidia, a spore that gets into wells, causing symptoms including diarrhea, vomiting, stomach cramps, fever and aching limbs. This finding could increase the score the State uses to determine how much aid they might assign to the project, because documented health problems are given a higher priority. The Town will know whether the Health Department finding raised this score early in October.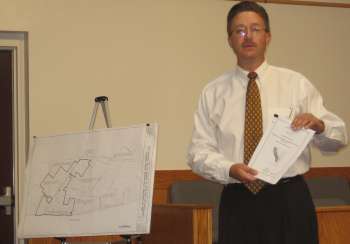 Town Engineer David Herrick

Residents were invited to ask technical questions about the system and the costs. Mary Boles, Penny Rogers Don Bordenet, Barb Bennett, Dan Konowalow and others asked questions that were mainly about fees and costs. Mr. Herrick explained that the $565 would be charged regardless of whether a home hooks up to the system, but that there would be no other required charges. Hooking up to the system and using the water is optional. Homeowners whose homes are nearby who want to join the water district extension would lower each unit's cost. Adjustments would be made each year to the dept payment to reflect homes being built on vacant lots.
There was a lot of tension in the room, though less so after Mr. Herrick had completed his presentation and residents were assured they would have their say in the upcoming public meeting.
Next the Board accepted a petition from Noni Krom, who had signatures from most of the residents on Drake Road, many of who are suffering well problems because of the drought. "We would like to have water as soon as possible," she told the Board. Board Member Bud Shattuck recalled that studies had been done over the past ten years that could be updated to expedite the process. He was concerned that a drought next year could be disastrous to residents on the road. "A lot of people in the road are really hurting," Ms. Krom added. The board set things in motion to update the information and to hold a required public hearing.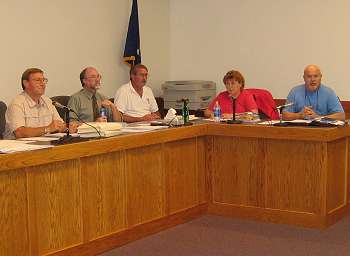 (Left to Right) Town Supervisor Stephen Farkas, Board members Bud Shattuck, Doug McEver, Connie Wilcox and Marty Christopher

Next on the agenda was a petition for a water district extension on Lake Ridge Road. A resident told the Board that her water had been tested and was undrinkable. She is having to purchase water for adults and a baby, and was most anxious to have Town water available. The board was sympathetic to the request, taking the same approach as they are taking on the Drake Road proposal, to move it along as quickly as possible. "Please stay with us," said Mr. Farkas, " and we'll move it along as long as there is agreement (among the Lake Ridge residents)."
The Town Board has the ultimate authority on who is and is not included in a water district. They have to balance the costs to residents with doing what is best for all the effected parties. They won't have an easy job of it as they deliberate on how the Algerine Road proposal is to be settled.
----