By

Dan Veaner

News

Print
The Lansing RFP Committee held the third of a series of sessions Wednesday to allow developers to present proposals for a possible Lansing Town Center.  This time it was Calimar's turn to talk about a $17.44 million senior apartment complex they hope to build here.  Calimar is a developer that specializes in building and operating senior housing.
"It's not just a building," said Calimar Director of Senior Housing Development Jocelyn Bos. "What we pride ourselves on is our senior communities.  Each of our buildings have their own unique personalities.  This is not assisted living.  It is independent living."
Calimar's original proposal was for a three story building west of the main town center road.  In October of 2012 the Town asked the developer to relocate to a lot to the east of the proposed road, and they changed the design to four stories with a reduced footprint so the building would not infringe on a historic railroad bed and the town walking trail.  Later the proposal was changed to three stories again. 
The current version of the proposed building has an H-shaped footprint with around 110 one and two bedroom apartments in the left and right sections with common rooms in the central section in a three story structure.  A 1700 square foot community room, office, lounge area, library, exercise rooms, theater.  The company would operate the facility themselves, providing two staff people including a building manager.
One bedroom apartments are between 887 and 925 square feet, with rents starting at $1300.  Two bedroom apartments are between 990 and 1106 square feet and include a bath and a half or two bathrooms with rents starting at $1500.  70% of the apartments will have two-bedrooms, and all have their own patios.  The rent includes basic cable, heat, hot water, sewer and water.  Bos said that the project would be connected to other areas of the town center to enhance it as a walkable community.  She said that pets under 35 pounds  are allowed for a one-time fee.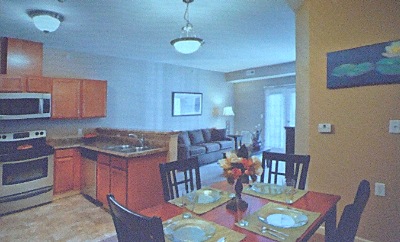 "These are sizable units.  They are quite spacious," Cowan said.  "These are significantly bigger than what's available in the current market.  A typical two-bedroom apartment in Ithaca is 600 square feet, so a one-bedroom that is 900 square feet is gives you an idea that these are bigger units.  When you get to 1,200 square foot two-bedroom apartments, that's double the size of a traditional two-bedroom in our region."
In order to make it worthwhile for the developers to pay for infrastructure they need to be able to build a certain number of units.  By banding together Calimar's 110 units with NRP's proposed 80 patio homes Bos says the approximately $3.71 million expense, of which Calimar would front $2,240,000, becomes worth it.  That includes roads, lighting and a small sewage treatment package plant that would service the Calimar and NRP projects and a project proposed by Green Square Developers.  The design being proposed is expandable, so if the town center is developed further new buildings can be accommodated.  Hunt Engineers and Architects Ben Gustafson said that if municipal sewer ever comes to Lansing the plant can be adapted to become part of a larger system. 
Bos said Calimar's market studies take a conservative approach, looking at ages 62 and older.  The project becomes worth pursuing if less than 15% of those within the income levels the company looks at.  As of 2014 she said there are 9,029 people over age 62, 13% of the the total population.  Over the next five years senior households will increase by 13.29%.  The majority of households in this category are owned come to about 71%.
"Initially when we looked at the (town center) project we were looking at a senior complex," said Better Housing for Tompkins County, Inc. Property Manager Rick Cowan.  "They are providing something comparable, if not better.  The capture rate that we were considering was one of the lowest numbers in the state, which means there was a very, very high degree of confidence that these places would rent out very easily. There is a great demand in the area.  And in Calimar's case, there is not other product like it in the area.  There is nothing competing with it."
Bos says that Calimar's senior housing developments have attracted medical buildings and restaurants to locate nearby.  She said the typical tenant in existing facilities has been 72 years old.  70 percent are female.  80% move in after selling private homes.  She said that recently younger tenants have been renting including people in their early 60s, not all of whom have retired.
"They are ready to downsize," Bos said.  "They're ready to not have to hassel with mowing lawns and fixing pipes, and have a more active life without being tied down."
The committee asked a variety of questions about placement, design, operation of the facility, landscaping, and the type and operation of the sewer plant.
Calimar currently operates six facilities, has four under construction, and another 7 in development.  Over the next three years the company plans to build another 15 senior apartment buildings.  The projects are located in New York, Pennsylvania, New Hampshire, Massachusetts, Connecticut, Nebraska, Kansas, Missouri, Iowa and North Carolina.
v10i11