By

Marcia E. Lynch

News

Print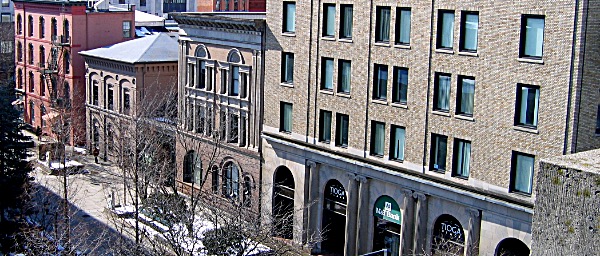 The Tompkins County Legislature's Budget, Capital, and Personnel Committee, meeting in special session, acted in strong support of the Tompkins Cortland Community College's proposed budgetary initiatives, and also joined in recommending that the Legislature approve acquisition of the current Tompkins Trust building to become the home of the History Center and other complementary non-profits.
By unanimous 4-0 votes (Legislator Mike Sigler was excused), the Committee called for adoption of the College's 2017-2018 budget, which includes a 1% increase in support from Tompkins and Cortland County sponsors; recommended that the College be authorized to appropriate $100,000 in surplus funds to replace lost tuition-based revenue for the current budget year; and recommended a one-time $83,200 discretionary supplemental appropriation from the Contingent Fund, outside of the budget process, to implement a Service Management Modernization Program during the coming academic year.
As joint County sponsors of the Community College, both Tompkins and Cortland County Legislatures must vote to adopt the budget, which includes an agreed-upon level of sponsor support, split between the two counties according to a formula based on proportional student enrollment. College President Dr. Carl Haynes cautioned Legislators that he has been informed that the Cortland County Budget Committee, which meets June 1st, is not expected to recommend the proposed budget.
Tompkins County Administrator Joe Mareane said it is important to get this County on record now in support of the 1% increase. Budget Chair Jim Dennis remarked that Cortland County's expected stance is "troubling to me as a county legislator," calling the College "a jewel that we have to keep shining."
The proposed $40.8 million budget would include nearly $4.7 million in total community sponsor support—64% (nearly $3.6 million) from Tompkins, a $29,763 increase, and 36% (nearly $1.1 million) from Cortland, an increase of $16,700. Should the Cortland committee not recommend the budget, President Haynes will return to the Tompkins budget committee June 12th to recommend further action.
After listening to a briefing from Administrator Mareane, the Committee, without dissent, joined the Legislature's Facilities and Infrastructure Committee in recommending acquisition of the Tompkins Trust building on the Ithaca Commons to house the History Center, along with other non-profits co-located as a Heritage Education Center. The Trust Company will vacate the building in 2018 to move to its new downtown headquarters on Seneca Street—the same year that the History Center's current County-paid lease expires.
The recommended proposal would authorize the County Administrator to negotiate acquisition of the building for a cost not to exceed $2 million ($400,000 below market value) and would amend the County's five-year Capital Improvement Plan to include Building acquisition and improvements, at a total cost of $2.9 million—reflecting approximately $900,000 in needed improvements needed to make it code-compliant and ready for tenant-funded renovations. The building and improvements would be paid for in cash, using unbudgeted revenue from the region's two casinos, with potential cost reductions of $450,000 from the project's private Capital Campaign and as much as $100,000 which could come from a Strategic Tourism Capital Grant. Administrator Mareane said the goal would be to have the building ready for History Center occupancy in January 2019. "This is a pretty large milestone that we're coming to today," he said.
History Center Director Rod Howe expressed confidence that the facility will be a tremendous asset for the community—a hands-on center for both visitors and county residents to use, with appeal to a broad audience.
Describing it as a very interesting project, Chair Dennis thanked all who have worked together over many months to bring the proposal to fruition. "This is the kind of thing that happens here," he said, and added that he is very pleased to be able to move the project forward.
v13i22