By

Dan Veaner

News

Print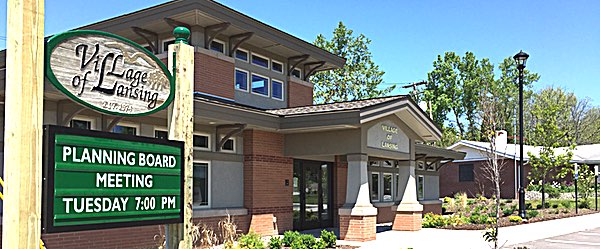 Mayor Donald Hartill reported Monday that a sewer project will bring new sewer service to both the Village and the Town of Lansing. Prompted by negotiations with the Town to bring sewer to two major developments plus the RINK, the pipe was originally expected to run north from existing Village sewer along Triphammer Road, almost as far as Asbury Road. But when an East Shore Drive route proved more feasible, Hartill says it brought an opportunity not only to bring sewer to Village residents on Cayuga Heights Road, but also to fix a dangerous intersection.
"We're still discussing the exact routing," Hartill said. "There may be an opportunity to fix the intersection of Cayuga Heights Road and East Shore Drive so that it's not as dangerous as it currently is. That may involve acquiring some land to the east of that intersection to make it . So there are several things in play."
The current plan is to construct a gravity system along East Shore Drive from the location of the proposed English Village project to the intersection at Cayuga Heights Road. At the intersection a pump station twill propagates the material to a forced main along the east side of Cayuga Heights Road. A gravity system, which will share the ditch with the forced main along Cayuga Heights Road, will flow northward to that same pump station. An area from Oakcrest to sharp bend on Cayuga Heights Road may be sewered by a smaller gravity main to a pump station very near the sharp bend.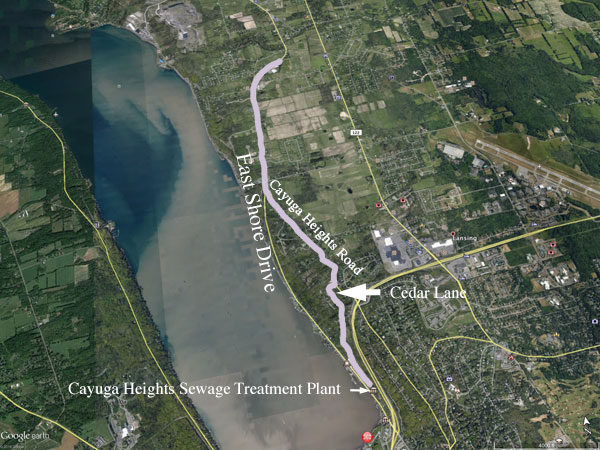 "That's going to require a detailed survey because the LIDAR contours we have are too course," Hartill explained. "The other alternative for that area is a low pressure forced main system, where individual houses would have a small pump station that would then force effluent into that 2" diameter piece of pipe to conduct it parallel to the bigger forced main to Cedar Lane, which is where our gravity system takes things down to the Cayuga Heights plant."
Hartill, Town Supervisor Ed LaVigne, and Cayuga Heights officials have negotiated for months to facilitate a sewer that would serve three Town projects, moving effluent south through Village sewer to the Cayuga Heights Treatment Plant. The new sewer would service the proposed English Village development (59 town homes and 58 single family homes), the Cayuga Orchards (formerly Cayuga Farms) development (102 unit rental town homes), plus the RINK, where a climbing wall project is being developed.
Hartill says that limited treatment plant sewer capacity is an issue for both the Town and Village, so officials are taking a two-tiered approach to making the most of existing capacity. he said that many residents, especially in older homes, illegally connect their sump pumps to the wastewater sewer. While there is a way to test for that abuse, Hartill said he is loath to 'pull that trigger', but said the Village may have to enforce the rule at some point. The other method is to change the zoning law to require larger parcels for sewered homes.
That may become a problem because of changing weather patterns. Village trustee Ronny Hardaway noted that County Legislator Deborah Dawson had attended a NYSEG conference at which attendees were told the power company is modeling a 74% increase in rain events in their future planning, which would also mean more stormwater finding its way into the sanitary sewer system. Hartill noted that the flow in the Cayuga Heights plant had about doubled during severe rain events last year from a normal flow of 400,000 gallons per day to a million.
Hartill also said that older sewer pipes in the Village will need maintenance.
"This new construction that we are contemplating will be very well engineered the most modern materials that all of us -- even our sewer systems that have 40 to 50 years average lifetimes," Hartill said. "Some of it's got this old kind of concrete pipe that tree roots go through just fine. In the older houses people have attached their sump pumps to the sanitary sewer. It's a big problem in the City of Ithaca, and probably in Cayuga heights also. We probably have the problem in the older parts of the roads for the same reason."
The new zoning would raise the lot size of sewered properties in the Cayuga Heights Road area of the Village from 30,000 square feet to 45,000. Lots without sewer must be a minimum of 60,000 square feet.
"The reason is to preserve the current layout of that region. It avoids large developments, and limits the total amount of material you're going to have to handle. That's always in the back of my mind, to make sure we don't box ourselves into an untenable situation. Those two reasons have a fair amount of merit."
Hartill said that landowners along the proposed route will be contacted to allow an accurate survey needed before final engineering for the sewer can be completed. He said the Village is 'in fairly good shape in terms of funding' for the proposed project.
v14i6