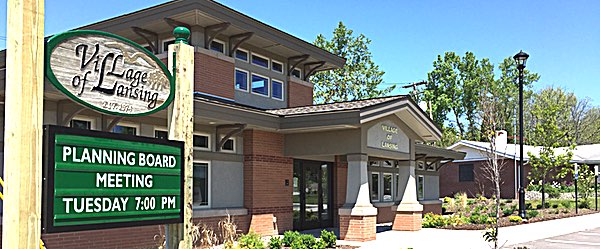 Village of Mayor Donald Hartill said that plans for a sewer extension that will not only cover the area around Cayuga heights Road, but will extend into the Town along East Shore Drive are making steady progress. But Hartill told Village Trustees Monday that concerns about sewer treatment capacities of the Cayuga Heights and Ithaca Area treatment plants will mean taking more aggressive measures to conserve sewage treatment capacity.
"All of the systems, even our system, are more than 30 years old," Hartill said. "The system in the city is much older. There's a problem of people who put their sump pump input into the sanitary sewers. Apparently it's fairly widespread in the city. I'm pretty sure we have example of it in the Villages of Lansing and and Cayuga Heights. So when it rains we automatically get more flow."
The Mayor noted that both plants exceeded their capacity during an unusually voluminous rainstorm last summer. He noted that the Cayuga Heights plant, with a normal flow of about 2 million gallons per day, was inundated with 8.7 million gallons that day. The Ithaca Area Plant, with a normal flow of 13 million gallons per day may have processed close to 50 million gallons.
"It turns out the flow meter at the Ithaca Area Plant only goes to 25 million gallons a day," he said. "The actual flow was probably pretty close to twice that. So there is beginning to be a little nervousness. Another bypass, the Remington Road bypass, has been talked about. It makes a lot of sense for Cayuga Heights because there is a single pipe that goes under Route 13 that serves everything south of 13, both in our village and the Village of Cayuga Heights. If something happens to that pipe there's a problem."
Hartill said two issues, aside from the number of hookups and normal use, impact sewer capacity. One is leaky old pipes, and the other is storm water that is incorrectly channeled into sanitary sewer systems. Hartill said it is more important to use cameras to find leaks in the system that are caused by tree roots penetrating the old concrete sewer pipes.
"If a tree root gets it that means water also gets in," he said. "One of the engineers pointed out they did a test. A manhole cover had a one inch diameter hole. They poured a five gallon bucket of water into the manhole. The rate was ten gallons per minute. it turns out that one inch hole creates one day's worth of the entire year for the Ithaca Area Plant if you extrapolate that over 365 days. so little things like a one inch hole are a problem."
Hartill said that if a second bypass from Cayuga Heights to the Ithaca Plant is constructed it may not relieve the capacity problem for the Village of Lansing as was originally hoped. The Kline Road Bypass was built to bring the Village into compliance when storms exceed the allowed sewer capacity. A second bypass may be constructed on Remington Road, costing several million dollars, but the original plan to use that pipe for normal operations has now been changed so that it would only be used as an emergency bypass.
"That was a bit of a disappointment in terms of our long range planning," Hartill said. "I think everybody has come to realize that we really have to do a much better job of dealing with Inflow and Infiltration (I&I) into the system."
Making matters worse, may properties in and outside of the Village have sump pumps that pour storm water into the sanitary sewer. Hartill says that inspections to insure the storm water is handled with a separate system are difficult without obtaining an administrative warrant, but could be required when homeowners apply for building permits to make changes to their homes.
"It's hard because most people don't even know that that's the way it is," he said. "I think it's a serious enough problem that it's likely that if you get a building permit to do something, part of that will be a stormwater management inspection. It's a great idea that you just put in a parallel system for stormwater, but that is also fairly expensive. So it's not an easy thing."
Hartill said the Cayuga Heights Sewer Treatment Plant is considering about $2 million of upgrades and repairs to bring it in compliance with DEC rules, and noted the Ithaca Plant is also looking at work that needs to be done.
County Legislator Deborah Dawson suggested that a grant might help the Cayuga Heights plant, which processes sewage for the Villages of Cayuga Heights and Lansing plus a portion of the Town of Lansing
.
"One thing Cayuga Heights might consider is applying for a Water Quality Improvement Project grant," she suggested. "There is quite a lot of money available this year because storm water and I&I are a statewide problem. The good thing about those grants is a municipality can apply jointly with soil and water conservation district, in which case the Soil and Water Conservation District monitors and implements all the paper work, which means the municipality doesn't have to bother with that. This is exactly the kind of project that they are looking at."
Hartill said that the Village Department of Public Works has already repaired some leaks in the sewer system. he also noted that plans for the Cayuga heights Road extension to the Village sewer are going forward. He said surveyors are almost ready to begin work along Cayuga Heights Road and East Shore Drive for the Village's piece of the project.
v14i18